Annette Clark '89 will leave her position next June after almost a decade at the helm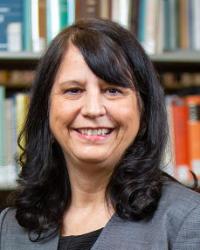 Dean Annette Clark '89 has announced she will step down in June of 2022 after nearly a decade of service as Seattle University School of Law's leader. Clark, who has a 35-year connection to the law school as a student, professor, and administrator, has deftly steered the law school through a tumultuous period in legal education.
"Throughout her tenure, Dean Clark's outstanding leadership and forward-looking vision have created a strong foundation that will enable the law school to continue to grow and thrive well into the future," said Seattle University Provost Shane P. Martin. "I particularly admire her steadfast commitment to the success of our law students, ensuring they receive the best possible education so they are well-prepared to build promising legal careers. Over the coming year, I look forward to joining with our community to celebrate Dean Clark's many and lasting contributions."
Clark's tenure as dean coincided with one of the most difficult periods in the history of legal education in this country. The Great Recession of 2008 greatly reduced the number of attorney positions nationally, which in turn caused many potential law students to consider other career options.
"Dean Clark has led the School of Law with a steady hand and with well-earned support from the faculty during the most challenging period imaginable for all law schools," said former Seattle University President Stephen Sundborg, SJ.
Under her leadership, the law school added GRE scores as a basis for admission, and launched a hybrid-online part-time JD program and an online-only Master of Legal Studies program, all of which are designed to attract new students. In addition, she has overseen a substantial rebound in the number of applications to the law school, which in turn has raised the median LSAT score and GPA of incoming students. Under Clark's direction, the law school has also experienced year-over-year increases in employment rates for its graduates.
"Dean Clark has been characteristically direct in her engagement with challenges, modeling someone who was ready to do the hard work," said Paul Holland, associate professor of law and former vice dean under Clark. "She has persisted through great difficulty, always willing to take responsibility and to provide opportunities for others to step forward and make necessary and beneficial change."
Clark, who previously earned an MD with honors from the University of Washington, joined the faculty of the University of Puget Sound School of Law (now Seattle University School of Law) immediately after graduating summa cum laude, first in her class, in 1989. In addition to her duties as a professor, she has been a long-time administrator at the law school, having served for 10 years as associate dean for academic affairs/vice dean, overseeing the academic program, including curriculum, centers and institutes, and faculty. After leading the law school as interim dean from 2009-10, she became dean and professor of law at Saint Louis University School of Law from 2011-12.
Upon her return, she was named the permanent dean of Seattle U Law in 2013.
"The strength and promise of the Seattle University School of Law today is a testimony to her dedication and wise leadership. As president, I enjoyed collaborating with her and admired her skillful leadership and her generous spirit," Sundborg said.
Clark received the Seattle Journal for Social Justice Faculty Award in 2005, the Dean's Medal in 2006, and the Outstanding Teacher Award in 2007 and 2011. She was also named the James B. McGoldrick, SJ, Fellow in 2008-09 by Sundborg. This is the most prestigious award conferred upon Seattle U faculty and recognizes an extraordinary faculty member who best exemplifies the mission and values of a Jesuit education. Clark counts teaching law students as one of her greatest joys.
Indeed, Clark has placed the success and welfare of students at the center of her focus throughout her career, and especially as dean. Students' first contact with her begins with receiving personal, hand-written notes that she sends to all admitted students, welcoming and encouraging them to attend Seattle U Law. She has also led efforts to substantially increase racial, ethnic, and gender diversity in incoming classes while strengthening academic support services, particularly bar studies assistance, to ensure that all students reach their full potential.

Clark's areas of expertise include civil procedure, medical liability, bioethics, and legal education, and she is a frequent regional and national lecturer on these topics. Her scholarship addresses health care, law, and health policy, with a particular emphasis on end-of-life issues. She has published articles in the New York University Law Review, the Georgetown Law Journal, and the Tulane Law Review, among others.
"I feel so fortunate to have had the opportunity to lead this law school, which has meant so much to me over the past 35 years, and I am glad that I will have this final year as dean to say 'thank you' to a community that has provided me with such support and encouragement along the way," Clark said. After a year-long sabbatical, she will decide whether to return as a tenured member of the faculty or retire from Seattle University.