This story originally appeared in Lawyer, Fall 2017.
In the Pacific Northwest, we're known for our coffee and our computers, our gamers and our grunge. The culture here is forward-thinking yet somehow still down to earth. Fewer wingtips and more hiking boots. Fewer old boys' clubs and more scrappy tech startups. Casual Friday? That's every day around here.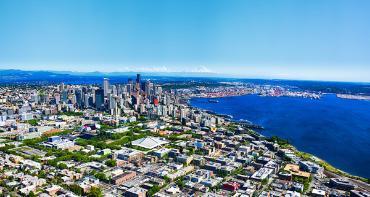 Sometimes a job is more than a job. Sometimes it's even more than a career. Sometimes a job can feel like an essential part of a city's - or even an entire region's - unique flavor and character.
Seattle University School of Law alumni use their skills to help shape iconic Northwest institutions every day. And when they describe how their companies capture the region's identity, a few common themes emerge: environmental stewardship, passion for social change, a willingness to try new ideas, quirky creativity.
"The places I've been happiest are the places that have that forward-facing vision and value set," says Holly Gion '05, director of data privacy at Alaska Airlines. "If you let that guide the work you do, you can't go wrong."
Here are a few stories of law school alumni and how their companies embody the spirit of the Pacific Northwest.
Microsoft Paolo Sy '13
Paolo Sy was in the fourth grade when his family got their first computer. "I would spend hours drawing random things with Microsoft Paint," he says. "It was this archaic drawing tool. What's available now is so much better, but I loved it."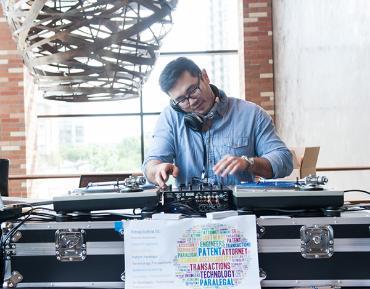 He didn't want to become an artist, though. He wanted to be a lawyer.
Growing up in Spokane, Sy was well aware that the software running his family's computer was produced on the other side of the state, at Microsoft in Redmond. That software now runs 1.25 billion computers around the world. Microsoft, and the local tech companies that blossomed in its shadow, are why the region is known as the Silicon Forest. "When you grow up in Washington, Microsoft is one of those things you look up to and aspire to," he says.
After law school, Sy launched a career in real estate law. But when he realized that his people skills were one of his strongest assets, he switched gears and went into legal recruiting. Now he helps hire lawyers for the company he looked up to as a kid.
"It's an unbelievable place to be. You drive up to the campus and you know you're in Microsoft territory. It's like an entire village," he says. "And you're working with the brightest and most well-versed attorneys in the world. The company is always innovating. We're constantly reinventing ourselves."
Wizards of the Coast Nicholas Mitchell '04
Every Friday night, in cities across the world, gamers gather to play Magic: The Gathering. It's the world's first trading card game, beloved by 20 million fans. The company that makes it, Wizards of the Coast, is based in Renton. Now a wholly owned subsidiary of Hasbro, the company also makes the classic fantasy game Dungeons & Dragons and board games like Axis & Allies and Betrayal.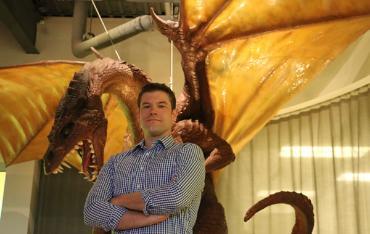 Nicholas Mitchell went to a Friday Night Magic event shortly after taking a job as senior attorney at Wizards six years ago. As a teenager growing up in Renton, he had played the very earliest version of the game at the company's headquarters in the early 1990s. But his skills had waned. "I played against a 7-year-old kid whose dad was with him. He beat the snot out of me," Mitchell says. "But it was fantastic because the dad and the kid were bonding over this game. Magic, much like D&D, has been around long enough that it's become multi-generational."
Both Magic and D&D allow players to inhabit fantasy worlds filled with spell-wielding magicians, mysterious spirits, and frightful ogres. Their increasing popularity is all part of what Mitchell calls the "geek chic culture" that was partly born in the Northwest and is now undergoing a healthy revival, thanks to shows like "Stranger Things" and celebrity fans.
And Mitchell, who now oversees global legal operations for Wizards as the managing attorney and also serves as an adjunct professor at Seattle U Law, says the inherent creativity of such an enterprise can't help but rub off, even on lawyers.
"I tell my team that our job is to never say no," he says. "Our job is to say, 'How can we make that work? How can we find a path forward?'"
Alaska Airlines Holly Gion '05
When Holly Gion graduated from the University of Nebraska in 1997 with a dual degree in political science and French, she packed up her car and headed west. Her sister was stationed on Whidbey Island and Gion felt the pull of the Puget Sound.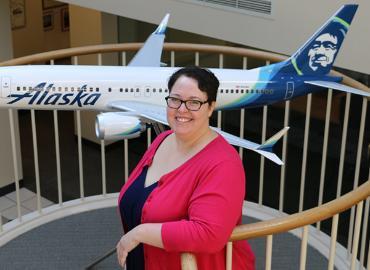 Now she's the director of data privacy at Alaska Airlines, whose presence and philanthropy looms large in the Northwest. The airline, now the fifth largest in the United States, has its primary hub at Seattle-Tacoma International Airport and its corporate headquarters are just a few minutes down the road from the tarmac. Born in 1932 as a charter service in Anchorage, the company continues to champion the pioneering spirit of the Last Frontier.
Over the course of her career, both before and after law school, Gion has worked at several iconic Northwest companies, including Expedia, Microsoft, Nordstrom, and now Alaska.
The thing that all of those companies have in common, she says, is a spirit of community. People pitch in and help, regardless of job title or hierarchy. And they see themselves as guardians not just of each other, but also their city and state.
"I flew to Denver recently and the first thing I did was look out the window to see that Mount Rainier was out," she says. "I thought, 'There's my mountain! And this is my flight crew, this is my plane.' There's a sense of ownership, of stewardship, at companies in the Northwest."
Molly Moon's Homemade Ice Cream Emily Kim '11
Most lawyers don't need a food handler's license, but Emily Kim has one. All the better to scoop up a serving of cherry chunk ice cream while she describes how she came to be marketing and community relations director at Molly Moon's.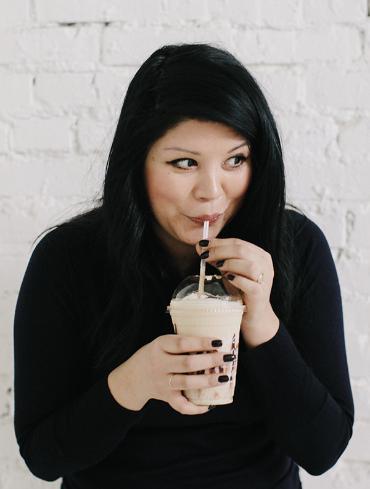 Formerly a legislative aide for the Seattle City Council, Kim had seen firsthand the passionate testimony of local entrepreneur Molly Moon Neitzel as she spoke out in favor of a higher minimum wage and secure scheduling. Neitzel's incredibly popular ice cream shops, now in eight Seattle neighborhoods, feature classic Northwest ingredients - Skagit Valley strawberries, Olympic Peninsula lavender - but also regional ideals. Fair treatment of workers. Environmental stewardship. Support for the community.
Kim was brought on to help secure federal nonprofit status for Molly Moon's Anna Banana Milk Fund, which provides fresh milk and dairy products to local food banks. Kim also helps the company build relationships with community partners like Seattle Public Schools, food justice groups, and arts organizations. In fact, her work with Molly Moon's now dovetails with her work as a board member for the University District Food Bank, which is right in the neighborhood where she grew up.
"I wanted to work on policy and equity issues and it's just the happiest coincidence that I found that at an ice cream shop," Kim says. "I get to do all the things I'm passionate about and then I also get to eat ice cream every day."
Starbucks Sonya Goykhman '08
In January 2017, when Starbucks announced plans to hire 10,000 refugees over the next five years, few people took that news more personally than Sonya Goykhman.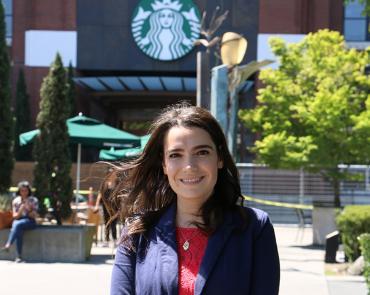 Goykhman, now corporate counsel at the world's most recognizable coffee brand, was just 5 years old when her family fled the former Soviet Union as refugees and eventually settled in Seattle. The Pacific Northwest was a safe haven, a place to escape the religious persecution they had suffered for their Jewish faith.
"I remember what it was like for my parents to try to find employment in a new country, so this mission speaks to me as a refugee," she says. "We'll provide a livelihood for people who are struggling. It makes me really proud to be a Starbucks partner."
Before Starbucks, Goykhman clerked for a Snohomish County judge, prosecuted juvenile crime cases in King County, and defended civil liability cases at a private firm. She also drank ... tea.
But now she's developing a taste for coffee, and even taking a Coffee Master Certification class as she manages general liability litigation for Starbucks stores in North America.
"Working at Starbucks is like a dream come true, so I strive to be a good steward of the company," she says. "While Starbucks has locations all over the world, for me it's a taste of home."
Sub Pop Cayle Sharratt '13
For the last 30 years, Sub Pop has been the record label and influential force behind the Seattle sound, whether it was grunge in the late 1980s or indie pop in the 2000s. But its founders didn't set out to create an iconic record label. They just loved music.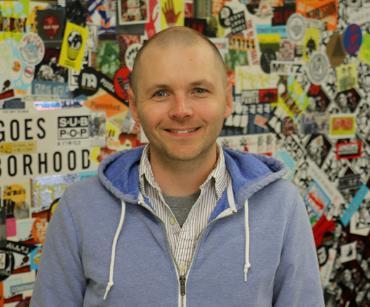 "I just have always had a strong love for music. Being involved in music in some way was always something that appealed to me as a career," he says.
The same is true of Cayle Sharratt, who grew up in Wenatchee and, as a teenager, drove across the Cascade Mountains with friends at every opportunity to see live punk shows in Seattle. Bands like NOFX and No Use for a Name played at beloved local venues - RKCNDY, Graceland - and Sharratt couldn't get enough.
Sharratt's law degree helped him land a position in the business and legal affairs department at Sub Pop, where he had interned as an undergrad. He drafts and edits artist contracts in addition to special projects, like securing voice actor rights for the massive, 112-track Bob's Burgers Music Album based on the TV comedy show.
"Sub Pop has stayed very true to its roots of putting out what we like," he says. "I think that meshes well with Seattle culture. People here are very individually oriented; they're just going to do things that they want to do, and other people are free to like it or not like it."