This story originally appeared in Lawyer, Spring 2017.
John Varga enlisted in the Army Reserve as a high school senior, completed basic training, and spent most of 2004 driving around Afghanistan with infantry units in search of Taliban insurgents, distributing government-branded soccer balls and school supplies to villagers along the way as part of his job in psychological operations. He came home, finished college, was honorably discharged, went to law school, and became a lawyer.
But he can't help imagining a chain of events in which things didn't turn out quite so well.
"If my Army experience had gone just a little differently, it is possible that I could be living a life of VA appointments and treatments, difficulty with housing and employment," he said. "I could have been blown up, survived, and then developed an opioid addiction" and a whole host of addiction-related problems as a result.
In other words, Varga could have been one of the thousands of veterans in serious need of legal help. Instead of being a lawyer, he could have easily been a client.
Varga, a 2012 graduate of Seattle University School of Law, is among the many law school alumni who make a concerted effort to help veterans as part of their legal practice. And after more than 15 years of conflict in the Middle East, the need for lawyers is significant.
Veterans face the same legal challenges that anyone else does - divorce, criminal charges, drafting a will - but there are unique issues as well. Even though federal law protects service members, deployments overseas can still cause problems with landlords, employers, and creditors. And it often takes legal assistance just to navigate the federal bureaucracy for benefits and health care. Veterans can also suffer from post-traumatic stress disorder, traumatic brain injury, or other service-related injuries that lead to legal problems.
"Any time a significant portion of our service members are involved in a war or armed conflict, the need for veterans services, including legal help, is going to rise," said Shane McKinnie '13, a lieutenant commander in the U.S. Navy Reserve and low bono attorney. "Veterans of armed conflict are more likely to need legal help based on injuries sustained in battle, both physical and psychological."
A 2015 study by the U.S. Department of Veterans Affairs found that legal assistance could solve at least half of the top 10 problems that contribute to homelessness among vets, including eviction/foreclosure, child support issues, driver's license suspension, outstanding warrants and fines, and discharge status appeals. (A less-than-honorable discharge can shut a veteran out from necessary care and services.)
According to the National Alliance to End Homelessness, nearly 9 percent of homeless people - almost 50,000 individuals nationwide - are veterans.
"There are very few legal resources available to veterans in Washington," Varga said. "If Washington attorneys who also happen to be veterans do not advocate for this, or at the very least make the general public aware of legal issues facing veterans, who will?"
The push to draw increased attention to the legal needs of veterans is happening at both a state level and a national level. The American Bar Association last year launched the Veterans Legal Services Initiative to assess veterans' unmet legal needs and advocate for better policies to address the problem.
"Veterans are men and women who risked their lives in defense of our liberty and to protect a just rule of law," ABA President Linda Klein wrote in the ABA Journal last fall. "These rights and freedoms speak to the core of our profession. It is only appropriate we repay veterans for their sacrifices."
Back home in Olympia, veterans legal advocates are pushing for passage of legislation that would create an Office of Military and Veteran Legal Assistance within the Attorney General's Office. John Tymczyszyn '12, a Bellevue-based criminal defense attorney and former Navy pilot, said the office would field requests from low-income veterans and match up their cases with volunteer attorneys. A final vote is expected later this spring.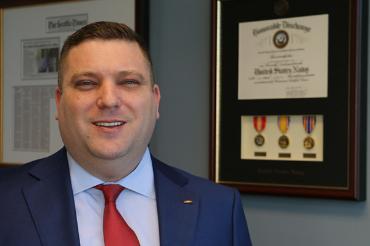 Tymczyszyn and other Seattle U Law alumni founded the Washington State Veterans Bar Association in 2014. The group not only provides camaraderie and networking for lawyers who are veterans, but also strives to help fellow vets get the legal help they need. A coordinator within the Washington Attorney General's office would provide the assistance needed to make that happen.
"Our goal is to have each one of our members take at least one case per year, and we have about 100 members - practicing attorneys, judges, law students," he said. "We could get 100 cases a year accomplished at no cost to the veteran."
Washington state has seven military bases, 650,000 veterans, 50,000 active duty service members, and 2 million affected family members. "We have the sixth largest population of veterans," Tymczyszyn said. "Veterans issues should be as important here as they are anywhere in the country."
Attorney Tracy Flood '99 often has veterans as clients at her private practice in Kitsap County. She served in the U.S. Navy on active duty from 1986-1990 and in the reserves for another four years after that. As part of her dedication to serving veterans, she assisted Kitsap Legal Services with its effort to launch a wills clinic for area veterans, based on an innovative program available to first responders.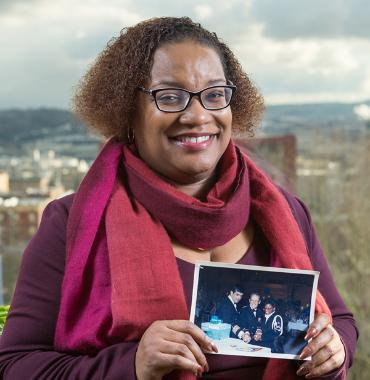 "Veterans are like family," she said. "I handled a divorce for one client in Island County who was a veteran, and then I handled a case for his daughter, and then he referred me to his friends. You build a unique bond with people who have been through similar experiences. You can relate to them because you know how important their military career was to them."
Flood said Kitsap County hosts "stand downs" as an important way for veterans in need to find vital services, and she participates regularly. Stand downs are events that provide supplies and services to low-income vets, including food, shelter, clothing, health screenings, and benefits counseling. Vets can also receive referrals to other social services, such as lawyers.
"You build a unique bond with people who have been through similar experiences. You can relate to them because you know how important their military career was to them." Tracy Flood '99
Samantha Adams '13 works for one of the few organizations that serves low-income veterans with legal needs - the Northwest Justice Project's Veterans Project, which employs three staff attorneys and one Equal Justice Works fellow.
She sees clients who often have multiple issues that interfere with their ability to find housing or employment. The most common civil legal issues are child support modification and arrears waiver requests, driver's license reinstatement and legal financial obligations from criminal convictions, housing and consumer issues, VA overpayments, access to health care and benefits, and discharge upgrades.
Adams, who is based in Olympia, said the most rewarding part of her job is when she's able to educate a veteran client about their legal rights in a way that makes them better able to advocate for themselves in the future.
In one case, she represented a Kitsap County man who was fighting a $64,000 bill from the Veterans Administration for overpayment of benefits. It was a complicated case, but Adams successfully got the amount cut in half.
"She worked her butt off," Adams's client, Matt Murray, told the Kitsap Sun.
Without legal assistance, low-income veterans may end up relying on state and local services for their basic human needs. Tymczyszyn said part of the reason he advocates on behalf of veterans is to make sure the federal government lives up to its responsibilities.
"The VA disability claim process is supposed to give veterans compensation for the injuries, either mental or physical, that they've suffered as a result of service," he said. "But the VA system is very difficult, if not impossible, for a pro se litigant to navigate. There are so many veterans who are entitled to compensation and it's the federal government's responsibility to provide that."
"If I didn't do this work, I'd almost feel like I wasn't fulfilling my duties to my military family." Alex Straub '05
Many attorneys who served in the military see their legal education as a way to give back to that close-knit community.
Alex Straub '05 now works as deputy legal counsel in the Judge Advocate's office at the Washington Army National Guard. He was inspired to seek a full-time career serving the military after routinely encountering veteran defendants in his work as a King County public defender.
"The military is its own unique community and once you're part of it you feel like you really belong. You view other veterans and military members as family," he said. "If I didn't do this work, I'd almost feel like I wasn't fulfilling my duties to my military family."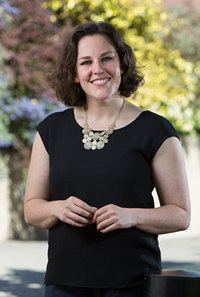 That feeling of family also makes it easier for veteran clients to relate to lawyers who themselves are veterans, said Ariel Hargrave, a former Marine who is now a third-year law student and Seattle U's representative on the Washington State Veterans Bar Association.
"There's a general sense among veterans that civilians just don't get it," she said. "It creates a sense of comfort when the person helping you can speak the same language."
Hargrave summed up how many lawyers feel about helping veterans with their legal needs: "You shouldn't have to fight so hard for your rights after fighting so hard for your country."
The birth of a bar association
As a first-year law student in 2009, John Tymczyszyn was in the first group of former service members to use the Post-9/11 G.I. Bill to pay for education. There were a few glitches in the reimbursement system, so he and fellow vet Shane McKinnie founded a veterans club at Seattle U Law to advocate on behalf of students receiving federal funds for their legal education.
The support they received from each other and the law school had a lasting effect, and that same group evolved into its own minority bar association, the Washington State Veterans Bar Association, the only state-level group in the country for legal professionals who are veterans.
"One of the things we've tried to do with the bar association is to form a new unit, a new squadron," Tymczyszyn said. "All the people you serve with are scattered around the world and you lose touch with them. I think every veteran has had the experience of not staying in touch with the best friends you made in the military."
Tymczyszyn and McKinnie served together in the U.S. Navy and trained together in Pensacola, Florida. It was just a lucky coincidence - they spotted each other during a campus tour - that they ended up in law school together.
McKinnie said the group helps lawyers connect across practice areas. "There are veterans in the local legal community of all ages and backgrounds, and it is very helpful to get to know one another and share our experiences, both in the military and in our varied legal practices."
A victory for disabled vets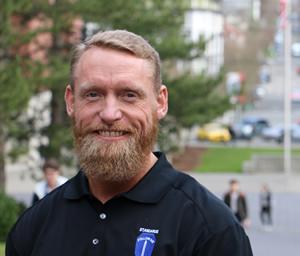 As a first-year law student, Jonathan Glover discovered right away how crucial legal skills can be in advocating for veterans services.
Glover served for eight years as a military police officer in the U.S. Army, but sustained back injuries in combat that forced him to find a new career. "I've always been intrigued by the law," he said. "My body gave up but my brain still works so I wanted to be able to pursue an education."
An Army evaluation determined that he was a good fit for law school, so he moved from Missouri to Seattle, had major back surgery, and took the LSAT two weeks later. But when he started law school, Washington state's Employment Security Department (ESD) refused to provide unemployment benefits that he was entitled to as part of his training benefits program, arguing that a doctoral level degree isn't the same as training.
ESD refused to reconsider, so Glover appealed to an administrative law judge. "I did all my research and wrote a 13-page pleading," he said. "We were on the phone for two hours. Everything came into play - my civil procedure class, my legal writing class, my research skills." An attorney from the Unemployment Law Project was also on the line as back-up.
The denial was reversed.
"Now there's a record that will allow dislocated disabled people, not just veterans, to attend law school as a viable training benefits option," he said. "I kicked that door wide open."