This story originally appeared in Lawyer, Fall 2019.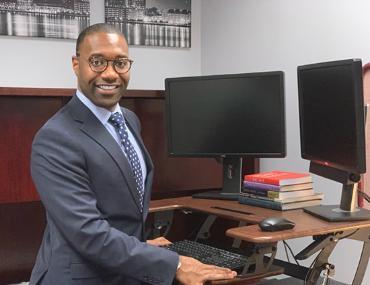 Not many federal judges are household names. Then again, most federal judges aren't Judge Damon J. Keith.
Growing up outside of Detroit, Michigan, Seattle University School of Law graduate Azar Alexander '16 knew all about Judge Keith, his home state hero.
Keith's reputation as a civil rights legend was earned through many landmark decisions over half a century on the federal bench. For example, he shut down the Nixon Administration's use of illegal wiretaps in a case that came to be known simply as "the Keith case." He ruled against forced segregation in education and housing. He protected journalists' access to high-profile immigration hearings after 9/11. He wrote passionately about protecting voting rights for African Americans.
Alexander, 31, had the opportunity of a lifetime last term to serve as Keith's law clerk in the U.S. Court of Appeals for the Sixth Circuit. His hero became his boss. Sadly, Alexander was one of Keith's last clerks; the judge died in office in April 2019 at the age of 96.
"Judge Keith navigated this world with a moral compass that put him on the right side of history," Alexander said. "He did what he thought was the most right for the most people, regardless of public opinion or political pushback. That's something I'll always carry with me."
As Keith's law clerk, Alexander was pleased to discover that this man he had idolized for so long was down to earth, welcoming, and approachable.
Every February, Keith invited members of the community into his courtroom for a soul food luncheon, where he would honor people for their service to Detroit. He hosted a massive cookout on his farm in Virginia every Fourth of July — his birthday, appropriately - for all 122 of his past clerks and their families. He went to the local farmers market every weekend to buy flowers for his wife; even after she died in 2007, he went just to chat with vendors.
"That was his nature. He was a people person," Alexander said. "You just don't see federal judges hanging out in public. It's a very isolating career because you spend a great deal of time at work and you are ethically limited in work-related topics you can talk to other people about."
Alexander called it "surreal" to be part of the iconic judge's legacy, a member of the "Keith family," as the judge used to call his clerks. But Keith's legacy is in good hands; Alexander continues to emulate the late judge's values, his dedication to his community, and his deep appreciation for the administration of justice.
Other former Keith clerks include Michigan Gov. Jennifer Granholm, Harvard Law Professor Lani Guinier, and U.S. Court of Appeals Judge Eric Clay, with whom Alexander finished the remainder of his clerkship.
Clerking, with its intense focus on writing and research in service to a judge, appealed to Alexander early in his time as a student.
"The legal writing program refined my writing skills and my attention to detail," he said, "but, more importantly, it gave me the confidence that I can approach any assignment thoughtfully and thoroughly."
Professor Janet K.G. Dickson '88, one of the legal writing professors Alexander credits for his skill development, was also a federal judicial clerk early in her career. Clerks form a special working relationship with the judges they serve.
"They rely on your opinion," she said. "You've done the research. You've checked the cases. You've done the citations."
Alexander's dedication to his studies as a law student made him well-suited for the responsibilities of a clerk, Dickson said. "He's a great listener, and always very careful with his words. When you're clerking, you have to be open to what the parties in the case are telling you," she said. "You have to put the time in, and Azar always did."
During law school, Alexander sought out judicial externships that allowed him to receive school credit to work for and learn from state and federal judges, including on the Washington Supreme Court, where he reveled in the variety and complexity of the legal issues he researched.
The cases were a far cry from the one that initially prompted his interest in the law. His mother, who was studying for a business degree, left one of her textbooks out on the counter. Flipping through it, Alexander — just 13 at the time — was fascinated by a case in which Denny's was sued for serving butter cold rather than melted, as advertised.
That moment of adolescent diversion eventually matured into an appreciation for the power of law, and a concern for those who don't have equal access to justice.
"I began to learn and observe that our criminal justice system disproportionately affects people of color and those who are disenfranchised," he said. "I also noticed the lack of diversity in the judiciary. There's a need for jurists of all backgrounds and life experiences to administer justice."
As his clerkship ends and he moves into private litigation practice at Riley Safer Holmes & Cancila, LLP in Chicago, Alexander said he'll always remember what it felt like to be in the presence of a legal legend, to get inside the head of such a distinguished judge.
What he found there, in that great mind, was fairness.
"He was the most fair person I've ever met," he said. "It was just the mindset Judge Keith inherently had."