This story originally appeared in Lawyer, Fall 2016.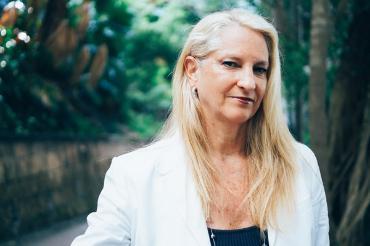 For Andrea Richey, every week is Shark Week.
"Sharks are cool! Sharks are over 400 million years old - older than dinosaurs by 200 million years. There are more than 500 species of sharks but only eight are protected," she said. Her favorites are the iconic hammerhead shark and, of course, the great white. "The granddaddy of them all! That one is so majestic."
Richey, a 1990 graduate of Seattle University School of Law, knows what she's talking about. For the past year, she has served as chair of the advisory board for the Hong Kong Shark Foundation. The position, which she calls a "full-time volunteer job," grew from a desire to give back to her community.
A resident of Hong Kong for more than two decades, Richey spent several years working in legal recruitment and business development for prominent U.S. companies with offices in Asia. Then one night she happened to attend a presentation about sharks at the Royal Hong Kong Yacht Club, and her mind was promptly blown.
"There was just so much I had never heard before. Over 100 million sharks are killed every year for their fins and 50 percent of that global business passes through Hong Kong - literally at my back door where I live. I can walk five minutes from my house to the markets where they sell dried shark fin," she said. "I realized it was time to help the sharks and that I was in a unique position to help."
In Asia, Richey and the foundation focus their efforts on encouraging people to stop eating shark fin soup. The dish is an essential element of a traditional Chinese wedding, thought to bring good luck to marriage. Ironically, the fins have no taste - all flavor comes from the broth. The foundation estimates that 30 sharks die for every wedding.
And what a gruesome death it is. Hooked sharks are hauled onto boats and their fins are sliced off while the animals are still alive. To save weight and space in the boat, sharks are then tossed back into the ocean, where they sink to the bottom and die, unable to swim without their fins.
Shark finning is illegal in U.S. waters, but only a handful of states - including Washington, California, Hawai'i, Oregon, New York, and most recently, Texas - ban the import and export of shark fins.
Jerry McLean, former chief executive officer of the Hong Kong Shark Foundation, said Richey's focus and tenacity are great assets to the organization.
"She's a connector, one who pulls people together," he said. "If there's an issue, she likely will know the person who can solve it. Her ability to set out goals, and help pull the team around that goal and get everyone on board, is fantastic and a trait which is key in any organization."
Richey speaks out on social media, visits with schoolchildren, organizes fundraising events, and coordinates protests with other wildlife conservation groups.
"When you're in your 30s and 40s, you're so focused on your career," she said. "But now I'm really starting to think about what kind of legacy I'm leaving behind. I just had an epiphany that this was an injustice, and I could help."
As a girl growing up in Bellevue, Washington, Richey never pictured herself living in China and leading street protests against companies like FedEx, which allows customers to ship shark fins. (Competitors have banned such shipments.) She was a political science major at the University of Washington when she decided to fulfill her language requirement by studying Chinese. Turns out she had a real knack for it.
Her aptitude with the language led her to Taiwan, where she taught English and worked as an office manager in a law firm. That experience piqued her interest in the law, so she returned home to Seattle University to be closer to her family while getting a law degree.
"Hanging out and studying in the library were some of my best memories," she said. "Sometimes I think I learned more from the after-class discussions and debates in the library that sometimes went late into the night."
Though she went into the business world instead of practicing law, she said her law degree has helped her in every job she's had.
"It gave me the basic foundation for critically writing and logically thinking," she said. "It helps you structure the way think, which makes you a better business person."
It may even help her save the sharks.
"Just the other day I was telling an intern about using the IRAC method when blogging for our organization," she said. "Issue, rule, analysis, conclusion. Who would have thought that would be a useful tool all these years later?"