This story originally appeared in Lawyer, Spring 2017.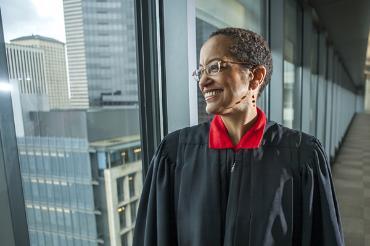 One of Judge Judith Hightower's favorite memories from law school was the time she got a D on her first-year legal writing brief. Sure, the grade was awful, but it's what happened next that matters.
The issue was whether unwitting possession of an illegal substance could be a valid defense against criminal charges. Precedent said no, but Hightower's gut instinct said yes. She found a case from Alaska to support her position and built her argument for a "better rule of law."
"I got a D on my paper because I did not follow precedent and really struggled with whether to stay in law school, that perhaps I really wasn't cut out for this profession," she said.
Then the day for oral arguments arrived. Three months pregnant and feeling miserable, Hightower persisted, confident that several months of research into state marijuana laws would support her case.
"After the argument, Professor [Laurel] Oates told me that I should not quit and encouraged me to pursue my legal career," she said. "Later we learned this was a real case before the state Supreme Court, which had ruled the way I argued. I was vindicated!"
That moment would foreshadow much of Hightower's career, where her instincts and powerful sense of justice have guided her interactions with colleagues, clients, and defendants in her courtroom. Hightower, a 1983 graduate of the law school, retired last year after serving for 25 years on the Seattle Municipal Court bench. She was the second elected and longest serving African American female judge in the state.
As a public defender straight out of law school, Hightower repeatedly encountered a judiciary that worked in rote, formulaic ways that showed little appreciation for the life circumstances of her clients. As a judge, she worked to change that.
"The courtroom became this revolving door for defendants because their underlying issues were never addressed - education, substance abuse, employment, mental health issues," she said. "So I would impose conditions that were related to the situation. I didn't impose fines on people who couldn't pay. And I wouldn't give them more jail time than was warranted."
This approach isn't nearly as radical now as it was back then. Thanks to Judge Hightower's efforts, Seattle now has innovative programs like mental health court.
"When I first started, I was a laughingstock. People would say, 'that judge loves to hug a thug.' But I ran on a campaign that I would be tough but fair," she said. If a defendant didn't comply with her orders, she said, then she got tough.
Hightower grew up in the Seattle projects, the daughter of a homemaker and a sheet metal worker in a devoutly Catholic family. As an undergraduate at the University of Washington, she studied comparative literature and spoke out against apartheid in South Africa.
At every stage in her education, she stayed active in student government and volunteer groups. As a young law student, she and Jesse Wineberry '82 founded the law school's first Black Law Student Association. At the time, all law students of color belonged to a group called the Third World Coalition. But a surge in the number of black students admitted meant they had enough to form a separate group aligned with the National Black Law Student Association.
"We just felt we could be more effective if we were tied to a national organization," she said.
The Seattle U BLSA chapter is still going strong, a point of pride for Hightower.
"Challenges still exist for students of color. Maybe if they didn't, we wouldn't have a BLSA," she said, praising Seattle U Law's commitment to recruiting students of color.
"Representation is so important in the law. There's no doubt about it," she said. "From a person of color's perspective, they already feel like they aren't going to be treated justly in the first place. So if they see someone who looks like them, it gives them a sense that maybe I have a chance. Here's somebody who's not going to judge me based on the color of my skin but who's going to hear me and treat me fairly."