This story originally appeared in Lawyer, Spring 2016.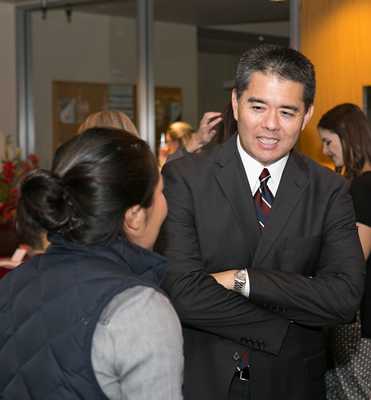 For Judge Patrick Oishi '96, education was the family business. His mother was an elementary school teacher and his father was the district superintendent of public schools for Maui County. Oishi always admired his parents' dedication and commitment to education and public service. So when he graduated from Seattle University in 1989 with a degree in secondary education, he happily took a job teaching 7th graders and coaching "a little bit of everything" in the Federal Way School District.
But there was yet another influential figure in his childhood, one who inspired a career in the law. Judge Boyd Mossman, now retired from the 2nd Circuit Court in Maui, was a family friend whose children were Oishi's swim teammates. Locals there know him as a judge who was tough, fair-minded, and genuinely cared about the community.
"I saw the great contributions he made to the community I grew up in, and how he helped to make our community a better and safer place to live," Oishi said. "He was always someone who was very engaged in the community, and I admired and respected that."
Oishi wants to have a similar impact in his current position as King County Superior Court judge. He was appointed to the bench by Gov. Christine Gregoire in May 2011. At 43, he was one of the youngest members of the King County bench at the time, but he brought with him a strong commitment to public service and diverse life experience that, in part, can be credited to his time in the classroom.
It was difficult for Oishi to leave teaching and the students he cared for so much. With a heavy heart, he said goodbye to his middle schoolers in 1993 and headed to law school at University of Puget Sound in Tacoma. (While he was there, the law school was acquired by Seattle University, making him a double SU alum.)
Third-year law student George Kaai first met Judge Oishi when he was an undergraduate at University of Puget Sound and interested in law as a career. Since the two are both from Hawaii, the conversation naturally turned to home.
"I was at a point in my life where I was finishing up school and needed to decide if I wanted to return home or continue on the mainland," Kaai said. Judge Oishi "told me that Hawaii will always be his home, but he had opportunities here to fulfill his dreams and provide for his family in a way that he might not have had if he stayed home."
In the years since, that advice has been invaluable to Kaai. "It's hard to leave the islands, but it is easier when you can look up to people like Judge Oishi who traveled the same path to a very successful and rewarding career," he said.
Following the career path of Judge Mossman, Oishi became a prosecutor, trying more than 90 jury trials, including many violent felony offenses, over the course of a 12-year career with the Pierce County Prosecutor's Office. Judges he appeared before took notice and encouraged him to consider a judicial career.
Oishi joined Pierce County Superior Court in 2010 as a court commissioner and became the first superior court commissioner in the state whose primary focus was presiding over felony criminal cases.
Though Oishi spent one year in private practice, he said his work as a prosecutor and now as a judge reflects his personal commitment to public service. "That's very important to me. It's how I was raised," he said. "With both parents in public education, it was part of our family make-up."
He added that he especially enjoys the trial court and the human connection it offers, not unlike teaching.
"I have daily interactions with the public, whether they're litigants, witnesses, or jurors," he said. "Those human interactions, the human touches, are a very rewarding part of what I do."
His interest in public service extends beyond the courtroom. Oishi is a former board member of the Seattle University Law Alumni Board, and he is a board member of the Asian Bar Association of Washington, which honored him with its Judge of the Year Award in 2015. He has coached youth soccer and supports the Leukemia and Lymphoma Society's Team in Training program.
He also chairs the King County Bar Association's Diversity Committee. Oishi believes that improving diversity is critical to strengthening the legal profession and the judiciary.
Often, as a judge, Oishi calls on his skills as educator, helping the people in his courtroom make sense of a system that can be very complicated. "When you leave the courtroom, you might not always agree with the result, but you should understand why and how the decision was made," he said. "It is important that litigants are treated fairly and feel that they have had the opportunity to be heard in court."