This story originally appeared in Lawyer, Spring 2016.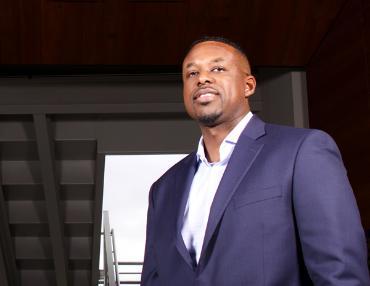 If you ask him to choose a favorite sport, Shondell Reed '01 will admit a personal fondness for football — his older brother briefly played for the Seahawks — but really he loves them all.
"I grew up with sports," he said. "The sport would just change with the seasons — football in the fall, basketball in the winter. In the spring we'd run track."
Now, as senior associate director of athletics at University of Washington, Reed follows a wide world of sports, including tennis, cross-country, rowing, soccer, and softball. It's his dream job.
But back when he was a student at Seattle University School of Law, he couldn't imagine the path that led him to this career. It certainly wasn't typical.
"In my 3L year I started to realize that practicing law at a firm just wasn't right for me," he said. "My dad didn't raise a lazy person. I will work until my fingers bleed if it's something I love doing. And sports was something I loved, so I decided to try and make it my career."
He enrolled in the sports management program at the University of San Francisco and began working as an intern in the athletic department at University of California Berkeley. While at Cal, one of the administrators hauled out a casebook-sized manual of rules and regulations from the National Collegiate Athletic Association (NCAA). "I thought, 'Hey! This language looks familiar!'" Reed said.
A career in compliance was born. An internship at The Ohio State University was followed by a job offer at Colgate University in central New York, where he stayed for eight years before returning to Seattle. Now he supervises a six-person compliance staff as well as the athletic training, strength/conditioning, and equipment staffs while also serving as lead sport administrator for nine varsity programs.
A compliance officer is a little like an in-house cop. If there are state, federal, city, or industry regulations that govern a particular business or organization, the compliance officer makes sure they're followed. In college athletics, there are rules about everything from how many hours student athletes can practice each week to how and when coaches can contact potential recruits.
"The rules are constantly changing," he said. "There's a lot of thinking on your feet, which is something I learned in law school from all that cold calling in class."
A law degree isn't required for compliance officers, but it helps. Heidi Alessi '01, a member of Reed's close-knit study group that formed in their 1L year, also handles compliance as senior benefits counsel for Providence Health & Services.
"It's an opportunity to be a creative problem-solver," she said. "In compliance, you can really be pro-active and keep people out of trouble, rather than interacting with them once they're already involved in a lawsuit."
"I've prided myself on having my staff focus on it more as a customer service position," Reed said. "We assist coaches in navigating the rules to help them remain as competitive as possible."
Both Alessi and Reed credit their study group with helping them survive law school. "I'd get called on in class and I'd be struggling with an answer and I knew I could glance over at Shondell and I'd get the nod to let me know I was doing just fine," Alessi said.
Their group included Adam Dublin, who liked to joke that he had the heart of a 53-year-old woman. Born with a rare heart defect, Dublin did in fact have a donor heart. He passed away just two years out of law school, the result of complications from another heart transplant. Reed keeps a photo of the two of them on his office wall, posing in front of the newly opened Sullivan Hall as co-chairs of the Alternative Dispute Resolution Board.
Today, he enjoys watching that same spirit of teamwork and camaraderie in the student athletes at UW. "You see the excitement on their faces when they make it to the post-season or do well academically. It's just priceless. It's flat-out priceless," he said. "You know what went into it and you know you helped contribute to their success."