This story originally appeared in Lawyer, Spring 2018.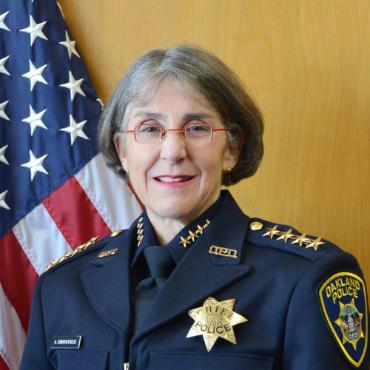 Anne Kirkpatrick '89 was a cop before, during, and after law school. She went from patrolling the streets of Memphis, Tennessee, to the graveyard shift in Redmond, Washington, later leading police departments in Ellensburg, Federal Way, and Spokane as chief of police. And in news that made national headlines, she became the first female police chief in Oakland, California, in January 2017.
Though she has never worked as a lawyer, Kirkpatrick said her legal education made a lasting impact on her style as a leader and her approach to law enforcement.
Born and raised in Memphis, Kirkpatrick moved across the country for law school because she wanted to keep working as a police officer, and it was one of the few part-time programs available at the time. She studied in her patrol car during lunch breaks - as long as she wasn't interrupted by a DUI or domestic disturbance call. In admiration of her dedication to both work and education, her Redmond colleagues named her Officer of the Year the same year she graduated from Seattle University School of Law (then University of Puget Sound School of Law).
Law school, Kirkpatrick said, appealed to her "academic self," and she welcomed the opportunity to develop her critical thinking skills. Although she already had a master's degree in counseling, earning a law degree propelled her career forward - she quickly jumped the ranks to chief. Perhaps most importantly, it also gave her a more holistic approach to law enforcement.
"My executive staff hears me say this all the time, but we have to look at policing differently," she said. "That absolutely goes back to the foundation law school gave me. It taught me how to think. It taught me how to ask questions, and that is so critical in leadership especially."
For example, she said, data from all major cities shows that 20 percent of known offenders commit 80 percent of crimes. That means law enforcement should use a more precise, data-driven strategy to reduce crime, rather than casting the widest net possible. "Years ago, police officers would try to Terry stop everybody out there with the hope of preventing crime," she said. "Why would we do that, now that we know better?"
A field trip to a psychiatric hospital is her most lasting memory from law school. In the late 1980s, she and her classmates went to Western State Hospital in Lakewood to learn about involuntary commitment laws. They left with a deeper appreciation for the struggles of people with mental illness, many of whom are at risk of homelessness.
"Homelessness is really a public health issue, not a law enforcement issue," she said. "Our role will always be as first responders, but we have really shifted our paradigm to training for crisis intervention."
The Washington Post called Kirkpatrick "a tough and seasoned reformer" when she took the job in Oakland, thanks to her insistence on police accountability, support for citizen involvement, and work to improve community relations in the places where she's served for the last 30 years. And it's true that she's been drawn to work at police departments in need of reform.
Oakland Police Department (OPD) has operated under federal oversight for 14 years after officers were accused of racially motivated violence and planting evidence. Kirkpatrick had been tapped to lead police reform efforts in Chicago, but left when the Oakland opportunity came up. She hopes she can help OPD regain its autonomy before her contract ends in 2019. In the last five years, Oakland officers have reduced their use of force by 70 percent, and the city's homicide rate has dropped 50 percent.
"I try to move away from the word reform. That's what consent decrees do - they force reform, they force a change of policy, they force new tactics," she said. "[I am] way more interested in transformation. When you transform, you really have a genuine new set of eyes and a new understanding. I'm a person interested in shifting hearts and minds."
Jennifer Shaw '87 was an attorney working on police accountability with the ACLU of Washington when Kirkpatrick became Spokane's chief of police in 2006. At the time, the city was still reeling from a case in which police officers were accused of killing a developmentally disabled man and concealing video evidence of the act.
"Right from the get-go, I admired her willingness to come in and say, 'Let's look at everything. Let's look at what went wrong,'" Shaw said. "Her goal was to provide constitutional policing to the people of Spokane."
Likewise, Kirkpatrick's arrival in Oakland followed a devastating sex scandal involving dozens of police officers. Oakland Mayor Libby Schaaf expressed confidence in Kirkpatrick's ability to change a "toxic, macho culture" within the department. For Kirkpatrick, that means not only holding police accountable but also being a steadfast and vocal supporter of the vast majority of honest, trustworthy police officers.
"A lot of venom is directed at police officers. I'm here to support them and champion them, but we will be accountable in that," she said. "We have caused harm. We have caused hurt. We need to own that and then we need to heal it."