This story originally appeared in Lawyer, Fall 2019.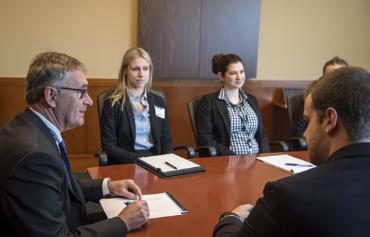 After his decades-long service as a prosecutor, Brian Moran '87 has a career-defining opportunity in front of him: In January of 2019, he was sworn in as U.S. Attorney for the Western District of Washington, making him the region's chief federal law enforcement officer. His appointment also marks the first time a Seattle University School of Law graduate has served as U.S. Attorney in Washington state.
"In my first meeting with the staff, I was truly humbled to be among them and gratified to be their leader," he said. "Looking out at the lawyers and staff who are at the pinnacle of law practice, to be one of them was pretty overwhelming."
Since assuming office, Moran has been getting to know his team of 76 attorneys and his support staff. "Every U.S. Attorney has a lot of discretion," he said. "One of my highest priorities is addressing violent crime and crime in tribal communities, especially violence against women." He is also in charge of enforcing the Department of Justice (DOJ) consent decree against the Seattle Police Department.
Almost immediately, Moran discovered that this discretion can put him in the middle of thorny issues. He opposed the City of Seattle's plan for safe-injection sites, for example, saying it violates federal law.
"There are going to be disagreements, but how you disagree matters," he said of his approach to preserving relationships with the agencies and governments with which he must work. To that end, he has made it a point to meet with law enforcement personnel at all levels to better understand how his office can support them.
Moran's nomination had bipartisan support, in part because he is stridently independent in his work, serving successfully under both Republican and Democratic attorneys general here in Washington. He notes that during his interview with then-Attorney General Jeff Sessions and then-Deputy AG Rod Rosenstein, no one mentioned political affiliation or fealty to the president. They wanted someone with a solid prosecutorial record and experience managing teams of attorneys.
Rob McKenna, a former Washington attorney general who promoted Moran to become his chief deputy, wholeheartedly recommended him when contacted by the DOJ. "Brian is a superb lawyer. He has more major criminal trial experience than most attorneys, and he's the only lawyer who has prosecuted a major criminal case in every county in the state," McKenna said. "He was the obvious candidate."
Despite Moran's impressive resume — which includes 15 years in the Washington State Office of the Attorney General, eventually rising to manage more than 500 attorneys across 27 divisions — he has faced a steep learning curve as U.S. Attorney because he had not previously worked at the federal level. His district contains military bases, an international border, tribal lands, and national parks and forests, all of which are governed by federal law.
Additionally, the magnitude of crimes his office tackles is much larger. For example, to stem the illegal drug trade, he goes after cartels pushing huge quantities of meth into the district's communities, rather than individual dealers.
Raised in Vermont, Moran attended Seattle U Law (then known as University of Puget Sound School of Law) because its practical approach to legal education appealed to him. "I was not the kind of person to sit around ruminating about the finer points of the cases in our textbooks. I wanted to roll up my sleeves and learn the nuts and bolts of good lawyering, especially how to become an effective advocate," he said. He especially enjoyed learning from practicing attorneys such as Tim Lowenberg, a retired major general and judge advocate in the U.S. Air Force who died in 2017, and Tom Richardson, a former professor who later returned to private practice.
In addition to a law degree, he graduated law school with his future wife. Moran and Eileen McKain JD '87 met in their third year, eventually married, and have two daughters. McKain is currently an attorney with the City of Lakewood.
After a stint working at an insurance defense firm in Tacoma following graduation, he became a prosecutor for Kitsap County, followed by his time in the attorney general's office.
John McKay, a professor from practice at Seattle U Law and a partner at Davis Wright Tremaine LLP, who formerly served in the position Moran now holds, predicts a successful tenure for Moran. Because an acting U.S. Attorney led the office for the last couple of years, "it will be much more helpful to have someone who has gone through the process of getting nominated by a president and confirmed by the Senate," he said. "There is a significant difference in the ability to be heard and get things done."
When he leaves the job, what does success look like for Moran? "That our district is safer," he said. "For every human trafficker and violent criminal we take off the streets, and for every firearm we remove from the hands of those who possess them illegally, that will be a net gain for the community."