This story originally appeared in Lawyer, Fall 2017.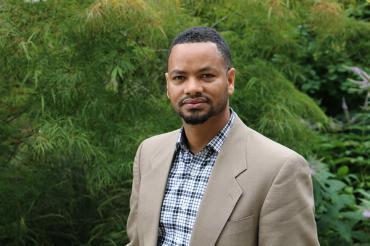 Officially, Daniel Ajema's top practice areas are criminal defense/DUI, traffic tickets, and car accidents.
But when you consider the unofficial items - the unbillable hours - you have to add a few other things. Civics education. Community outreach. Even therapy.
Ajema, who graduated in 2014, left a job he enjoyed at the King County Prosecuting Attorney's Office last year to start his own law practice and to better support immigrants from East Africa - places like Ethiopia, Eritrea, and Somalia. Ajema himself immigrated to Seattle from Ethiopia in 2003.
When President Donald Trump took office in January after campaigning on a vehemently anti-immigration platform, calls started pouring in to Ajema's office. And they haven't stopped. People are afraid they'll be deported, even if they have green cards. They hear rumors about draconian new laws passed in secret.
"Since day one of this new administration, I feel like there's an educator role that I play," he said. "Most of the people who call me came here from authoritarian countries. They've experienced dictatorships. The fear is real. I have to tell them that we still have the constitution that controls everything, that the president has limited power, and that there are checks and balances."
Those types of calls don't usually turn into cases for Ajema, and they take time, but he said there's a deep satisfaction in helping his community better understand U.S. law.
East Africans make up Seattle's third largest population of foreign-born residents with a total of more than 40,000 people, according to the U.S. Census. Nationwide, the Seattle-Tacoma area has the third largest concentration of Ethiopian immigrants.
"I felt the community was underrepresented. I saw a significant need," Ajema said. "There weren't enough lawyers out there."
Ajema speaks both Amharic and Oromo, the native languages of Ethiopia, so he's able to converse with clients in their native tongue. "They want that comfort," he said. "It makes a huge difference having someone who understands your culture and language."
As a law student in Ethiopia's capital city of Addis Ababa, Ajema won the lottery - literally - when he was granted a Diversity Immigrant Visa from the U.S. State Department in 2003. Though he had never been outside his home country, he was 21 years old and eager for adventure so he left for Seattle, where he had no family and only a few acquaintances.
He took a job driving a taxi and eventually started his education over again from scratch, enrolling at the University of Washington. Knowing that he had studied law back home, friends sought him out for help with legal forms and immigration questions. It renewed his interest in pursuing a law degree.
Ajema kept driving a taxi throughout his undergrad and law studies, switching to Uber when the app-based ride service came to Seattle. He'd keep his law books with him in the car, studying while he waited for fares. More than one Seattle U law student was surprised to see that their classmate was also their Uber driver.
"Capitol Hill was always busy, a great place for fares," Ajema said. "I'd just go straight to my car from class."
Even then, Ajema's concern for his community was strong. When he noticed that many drivers were left out of important decision-making at Uber and other ride services, he helped organize a drivers' union allied with the Teamsters. Law school classmates helped him draft letters to the news media.
Professor Elizabeth Ford, who teaches labor law, also helped. "At first I had no idea how instrumental Daniel had been in the union effort," she said. "He was so modest and quiet in class, but once I started to talk with him about his work with drivers, I saw the breadth of his understanding of the issues, his passion, and his ability to organize other drivers. Like many of his classmates, I was inspired to help however I could."
Even while he was succeeding academically in law school, Ajema was also talking with hundreds of drivers - listening, empathizing, and sharing their frustrations. He would meet them at rest stops, at the airport, and anywhere else he could find them.
In part as the result of Daniel's work and the work of unions like Teamsters Local 117, the App-Based Drivers Association was formed in Seattle and has been an effective voice in policy change.
Ajema is proud that he was able to help his community of drivers, some of whom are now clients. "We had about 300, 400 drivers at the time, and now they come to me with traffic tickets and other legal issues," he said. "It ended up being a great way to build my network."