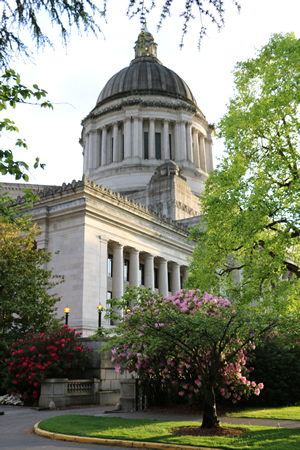 Law students interested in legislation, administrative law, and public policy will be able to study and work full-time in the state capital of Olympia as part of a new program at Seattle University School of Law.
The Semester in Olympia Program, which launches in January 2017, is designed to help students take full advantage of the curricular, extracurricular, and professional opportunities available in Washington's capital city.
"We're going to use the state capital as our classroom, both literally and figuratively," said Professor Lisa Brodoff, director of the Ronald A. Peterson Law Clinic. "For students interested in legislative work and the state's administrative agencies, there is no better place to learn."
Prior to the launch of the program, students taking externships in Olympia would have to return to Seattle for seminars and other law school courses. Now, with the generous offer of conference room space from Olympia-based law firm Phillips Burgess, PLLC, those seminars and courses will be taught just half a mile away from the State Capitol building.
Olympia is roughly 60 miles south of Seattle on a car-clogged interstate, making it important that students be able to relocate to Olympia for the entire semester. But the new program is not just about avoiding traffic jams.
"Students will be able to immerse themselves in the culture and legal scene of this vibrant and influential city," said Dean Annette Clark '89. "This program is an important expansion of legal education to serve the South Sound."
The Semester in Olympia Program offers two options: a full-time externship plus seminar, or a part-time externship combined with government courses.
The full-time option is particularly appropriate for Washington State Supreme Court externships but is available at any other full-time externship site. Students will also take a 1-credit externship seminar, taught in Olympia.
Students with part-time externships will now be able to study in Olympia full-time with the addition of two new courses: Legislation and Public Policy, and Washington State Administrative and Regulatory Law and Policy. Professor Brodoff said the classes will be small seminars, likely no more than six or seven students each.
The program will be offered each spring semester, to coincide with the state legislative session.
Richard "Mick" Phillips, founding partner of Phillips Burgess, PLLC, said he's pleased to host law students at his firm, an idea suggested by attorney Leslie Clark '04, a member of the school's Law Alumni Board. After all, his firm is already home to several other Seattle U Law alumni: Nicole Potebnya '05, Rosemary Boelens '13, and Erica Doctor '10.
Prominent law school alumni working in Olympia include Washington Supreme Court Justice Charles Johnson '76; Patricia Lashway '84, acting secretary of the Department of Social and Health Services; Barbara Baker '85, chief clerk of the state House of Representatives; Katie Kolan '10, director of Legislative and Regulatory Affairs at the Washington State Medical Association, and many others.
"Our people are running state agencies and working in the state legislature, and they're very excited for us to be focused on Olympia and helping to bring our students there," Professor Brodoff said.