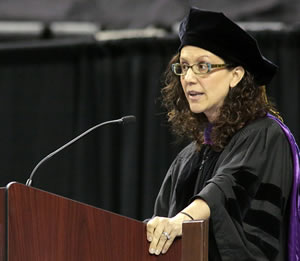 Outside Professor Deborah Ahrens's faculty office is a welcome mat with a not very welcoming message: Come Back With a Warrant.
The mat, which never fails to get a smile from visitors, is a perfect example of the humor Ahrens brings to the sometimes dark subject matter she teaches — criminal law, criminal procedure, and evidence. That humor, along with her dedication to her students and her commitment to academic achievement, has earned Ahrens the 2017-19 William C. Oltman Professor of Teaching Excellence Award.
"Professor Ahrens is one of our most talented and dedicated faculty members," said Dean Annette E. Clark '89, in announcing the award. "She immerses her students in the study of our criminal justice system, holding them to very high standards, and she is an innovator in integrating skills education into doctrinal courses."
The professorship was created to honor excellence in teaching and is named for Professor William C. Oltman, who retired in 2008 after 34 years of outstanding teaching in the areas of property and trusts and estates. Previous honorees include Professors Mark Chinen, Brooke Coleman, Sidney DeLong, and John Mitchell. An installation ceremony for Professor Ahrens will be held early in 2018.
Second-year student Brittney Adams said Ahrens goes out of her way to connect with students, whether meeting them for coffee or speaking at student events.
"Professor Ahrens works tirelessly to ensure that she balances the stringent academic expectations that she has of her students with a sense of humor and an open-door policy," Adams said. "She is truly exceptional in her ability to challenge status-quo ways of thinking, while also creating an environment where all students feel welcome and able to engage in conversations."
Before joining the faculty at Seattle University, Ahrens served as a law clerk for Judge Amalya Kearse of the United States Court of Appeals for the Second Circuit, a legal fellow at the ACLU's Drug Policy Litigation Project, an assistant public defender at the Richland County (South Carolina) Public Defender, and a visiting assistant professor of law at the University of South Carolina School of Law.
She earned a BA in public policy from Brown University, a master's in public policy from Harvard University's John F. Kennedy School of Government, and her JD magna cum laude from New York University, where she was the senior articles editor of the law review.
Her scholarship focuses on the cultural significance of contemporary policing practices and criminal sanctioning regimes, with particular emphasis on drug policy and on the regulation of student speech and conduct. Her articles have appeared in a variety of journals, including the American Criminal Law Review, Florida State Law Review, and Missouri Law Review. Her current research focuses on the Supreme Court's recent embrace of a broader understanding of the role of the criminal defense attorney in its criminal procedure decisions, on the rise of school uniforms and restrictive student dress codes, and on some of the unexplored frontiers in the legal regulation of alternative criminal sanctions.
Ahrens was voted Professor of the Year by the May 2014 graduating class and is a frequent speaker at academic and professional programs on a wide variety of criminal procedure, evidence, and sentencing issues.