Seattle University School of Law welcomed more than 60 leaders in legal education to campus as part of the 11th Annual Promoting Diversity in Law School Leadership Workshop, organized in partnership with Villanova University's Charles Widger School of Law and designed to encourage diverse candidates to seek out top administrative roles and succeed in those positions.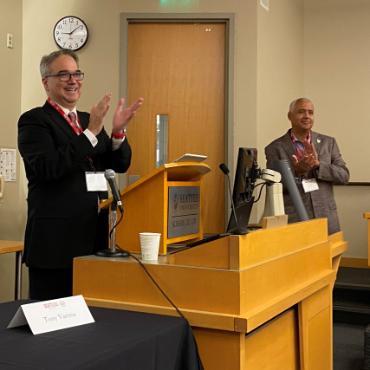 Seattle U Law "has long been a leader in diversity, equity, and inclusion work. We are one of the most diverse law schools in the country," said Dean Anthony E. Varona, in welcoming the attendees. "This conference, which has brought much-needed diversity into the ranks of law school leadership, is an extension of our law school's DNA."
With 31 attendees and 30 panelists, this year was the largest gathering in the workshop's history. The workshop assembles law school deans and executive university leaders from across the country to serve as presenters and panelists, providing a venue for them to share advice, wisdom, and mentorship with the attendees. Workshop attendees are primarily current law faculty members and assistant or associate deans who aspire to apply for deanship positions in the future.
"Leadership is needed more than ever in this country, leadership from folks who look like all of us," said Natasha Martin, Seattle University's vice president for diversity and inclusion and professor of law.
"Having a place at the table is a beginning. But having a place at the table, where you can bring all of who you are to that table, and to the leadership decision-making, is what really is important," Martin said. "This room represents what leadership tables should look like."
The two-day workshop features panel discussions that will help participants determine whether and when to pursue a deanship, understand the nuts and bolts of the dean's role, prepare to be a successful candidate, learn how to negotiate terms and ensure a successful transition, and determine what other forms of university and law school leadership roles may be a good fit.
Seattle University School of Law founded the Workshop on Promoting Diversity in Law School Leadership in 2007, then structured as a biennial conference. In 2018, Seattle U Law partnered with Dean Mark Alexander and Villanova University Charles Widger School of Law to make the workshop an annual event, alternating between the west and east coasts.
Alexander became dean two years after attending the workshop eight years ago and said he was eager to give back, which led to the partnership.
"What I love about this workshop is that we're just trying to pass it along," Alexander said, adding that panelists often continue to serve as mentors and supporters to attendees throughout their careers. "It's those of us who have experience talking to those who think maybe this is the path for them. There's no question too big or too small."
The Law School Admission Council, led by President and CEO Kellye Testy, herself a former law school dean, sponsored the workshop. The Society of American Law Teachers provided financial assistance for travel costs.