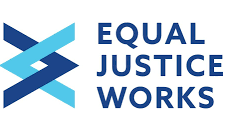 For two 2020 graduates, the social justice values they embraced while studying at Seattle University School of Law will shape their early legal careers as they begin prestigious Equal Justice Works (EJW) fellowships.
Vallen Solomon and Javiera Wood are two of 78 public interest lawyers across the country chosen to receive the 2020 fellowship, which allows them to pursue a project of their own design for two years following graduation.
Solomon will work with the King County Bar Association's Housing Justice Project on addressing homelessness, and Wood will serve immigrant populations with the team at Kids in Need of Defense.
The EJW fellowship is one of the most prestigious and competitive post-graduate legal fellowships in the country with 432 applicants this year.

"During law school, I got really involved in housing-related issues, largely relating to evictions and homelessness prevention," Solomon said. "So, it felt like a natural progression to try and turn that interest and passion into a potential fellowship with an organization like Equal Justice Works."
Through his project, which is sponsored by Costco Wholesale and The Raikes Foundation, Solomon will provide legal advocacy to young adults facing homelessness through youth­-centered services and increased legal literacy on evictions and tenant rights. He'll provide direct services to clients and distribute educational resources more broadly.

Wood's project is sponsored by Microsoft Corp. and The Sidley Austin Foundation. She'll focus on unaccompanied immigrant children in Eastern Washington who need access to legal services. She plans to work with the legal community statewide to mentor advocates for unaccompanied children. Additionally, she will provide direct representation, engage in strategic public outreach, recruit pro bono attorneys, develop training materials, and educate the state judicial bench.
"I am truly proud and honored to have this opportunity," Wood said. "The fellowship is a unique way for me to continue my work of breaking down barriers that impede immigrants from accessing justice and services."
Both students received guidance and support from Visiting Assistant Professor Monika Batra Kashyap, associate director of the Externship Program. Solomon said he was also inspired by Professor Steven Bender's Social Impact Advocacy course, as well as making valuable connections to the civil legal aid community through the law school's Access to Justice Institute.
"Vallen and Javiera have an opportunity to create real change for people in need," said Dean Annette E. Clark '89. "We're proud of their commitment to public interest law and grateful that EJW supports their goals."
Headquartered in Washington, D.C., EJW aims to break down the financial and structural barriers that prevent talented law graduates from pursuing careers in the public interest sector. Throughout the two-year project term, fellows receive the support they need to focus on helping their communities, including a competitive salary, benefits, and loan repayment assistance.
"Equal Justice Works is proud to support Javiera and Vallen in their efforts to improve equal access to justice in our country today," said Mia Sussman, director of fellowships at Equal Justice Works. "Both of their fellowship projects will provide vital legal services to underserved communities in Washington state."
Previous EJW two-year fellowship recipients from Seattle University School of Law include Alex Romero '19, Hyun-Mi Kim '19, Nick Allen '10, and Erin Shea McCann '07.