Seattle University School of Law Family Law program to serve more students, expand legal aid efforts
Domestic violence survivors and residents of underserved communities will have greater access to family law services and legal aid thanks to the Moccasin Lake Foundation's unprecedented $5 million gift to Seattle University School of Law. The gift will help create a pipeline of Seattle U Law graduates who will be prepared to help families in need in areas across Washington state.
"Seattle University is deeply grateful to the Moccasin Lake Foundation for its visionary gift in support of our law school's access to justice commitment," said Eduardo M. Peñalver, Seattle University president and professor of law. "Family law, including domestic violence matters, is an area where the stakes are high, the needs are great, and where access to effective legal assistance makes all the difference. This gift will immediately strengthen our ability to educate the next generation of powerful advocates for justice."
As Dean Annette E. Clark '89 noted, "This is the largest single gift in the law school's history and will have a transformative impact on our family law curriculum and make us a national leader in this area." This endowment will enable the law school to:
Establish an endowed chair in Family Law.
Develop and expand educational courses that provide family law services involving domestic violence, all types of protection orders, and family law representation.
Support student scholarships and fellowships for law students and recent graduates with an interest in family law/domestic violence law.
Implement infrastructure to enhance remote access to family law services in underserved communities throughout the state.
Create educational campaigns to increase awareness of domestic violence and ways to get help.
Stage community engagement events and projects dedicated to research and advocacy surrounding domestic violence, survivor support, family law, and access to justice.
"The Moccasin Lake Foundation could not be more pleased and delighted to support the creation of this endowed chair and program in Family Law at the Seattle University Law School," said Treasurer Lisa Anderson. "Our foundation has long sought to support those who protect the vulnerable and fight for the rights and safety of women and children."
Anderson said the gift was inspired by law school alumna Erin Kenway's passion for supporting domestic violence survivors and her deep desire to increase access to legal aid for underserved communities.
"Seattle U has a long history of service to the dignity of all people and to social justice. As a longtime member of the community and the Moccasin Lake Foundation, I can't think of a better educational institution than Seattle University School of Law to include this newly formed Family Law program to support survivors of domestic violence. Providing legal aid and support to survivors of domestic violence has long been an underfunded and overlooked area in Washington state, and I am so grateful that this will begin to change."
The gift will help the law school build on the efforts of Deirdre Bowen, associate professor of law, who created a Domestic Violence Protection Order (DVPO) clinic in the early days of the pandemic to address an alarming surge in domestic violence. To date, her students have helped more than 500 survivors – many of whom are low-income and lack the resources to hire attorneys – to complete court-required online legal forms, the first step in filing protection orders. Using remote technology and key partnerships with community groups, Bowen will expand the clinic's reach.
"With the Foundation's generous backing, Seattle U Law will be able to provide much needed family law services while at the same time delivering an immersive, hands-on training experience for our students so they can become family law attorneys and powerful advocates immediately upon graduation," said Bowen, who will serve as the first Moccasin Lake Foundation Endowed Chair in Family Law and director of the Family Law Program at the law school.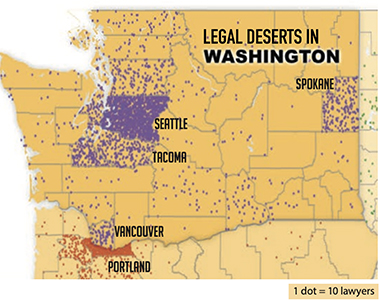 Part of the gift also will help the law school expand the reach of its domestic violence law clinic to areas of the state with few lawyers, what Bowen calls "legal deserts." She envisions enrolling students who hail from these areas, training them to specialize in family law and domestic violence, and helping them either set up practices or find positions in their home communities. Already, several students who participated in the DVPO clinic and have since graduated are now practicing family law, and Bowen believes the gift will help many more law students prepare for this legal career path.
About Seattle University School of Law
Rooted in the heart of the Pacific Northwest, Seattle University School of Law delivers an intellectually demanding legal education to a diverse community of students. Our distinctive approach to student-centered, values-based education challenges students with a rigorous curriculum delivered in a supportive environment by accomplished faculty. This method, complemented by an extensive network of alumni and legal professionals, cultivates highly competent, practice-ready graduates who are committed to advancing equity, dignity, and justice, at home and around the world.
About Moccasin Lake Foundation
The Moccasin Lake Foundation is a private, not-for-profit organization founded in 1991 as a long-term philanthropic program. The Foundation has been established with broad charitable purposes so that its grant making policies may always reflect the diverse interests of the Moccasin Lake Foundation and its individual board members. The Foundation supports organizations in the areas of Education, Environment and Social Services. Most of the Foundation's focus tends to be in the Pacific Northwest.