Seattle University School of Law has chosen three outstanding law students to serve as student liaisons to the Washington State Minority and Justice Commission (MJC): Leslie L. Burnett Locke (2L), Stephanie Chavez (3L), and Mónica Mendoza-Castrejón (2L).
The MJC, which operates under the auspices of the Washington Supreme Court, is charged with promoting and supporting a fair and bias-free system of justice. Its members represent a broad range of judicial actors from all levels of Washington courts, including judges, public defenders, prosecutors, law enforcement, members of the bar, and representatives from tribal courts, advocacy groups, and community organizations.
"Washington courts have become national leaders in identifying and addressing issues of racial equity in the judicial system," said Professor Mark Chinen, who serves as a commissioner and helped select the law school's cohort. "Serving as a liaison is demanding, but it provides students an opportunity to engage with the justice system on a statewide level and to see how changes can be made that have meaningful impacts on people of color in this state."
Student liaisons, while non-voting, are integral to the commission's work. Throughout their service, they learn about pressing issues affecting minorities within the justice system and meet many of the leaders on those issues.
They also design and carry out projects and programs that address racial bias in the courts. Burnett Locke, Chavez, and Mendoza-Castrejón will focus their project on cultivating community courts, an alternative to incarceration, which studies have shown is more effective at reducing recidivism. They will hold an event in Auburn later this month that will feature a panel discussion with leading legal advocates from across the state who have implemented these courts in their communities. The trio is also creating a virtual toolkit with resources that communities can use to establish their own such courts.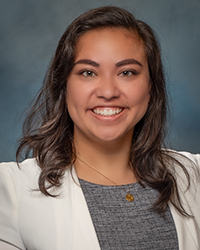 As a law student, Burnett Locke's focus is on criminal law, with an emphasis on civil rights and public defense. She was a 2022 Calhoun Family Fellow at the Fred T. Korematsu Center for Law and Equality, where she worked to address racial disparities within the criminal legal system, as well as sentencing reforms and diversion programs. Burnett Locke served as the vice president of the Student Bar Association during the 2022-23 academic year, is the founder and co-president of the Womxn of Color Coalition, and the recipient of the Justice Yu Endowed Scholarship for 2022-23. Prior to enrolling in law school, she worked at King County Department of Public Defense.
"The Commission's mission to remove bias from courts to ensure justice in a neutral and fair manner resonated with my own personal values and purpose in attending law school," Burnett Locke said. "I wanted to serve as a student liaison to guarantee that BIPOC and other minority communities on campus felt included and heard in discussions on this important issue."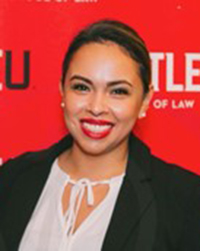 Chavez is a first-generation evening program student, who is passionate about utilizing the law to help underrepresented communities. In her first-year of law school, Chavez was co-director of legal clinics for the Latina/o Bar Association of Washington (LBAW) from 2020-2021. Since then, Chavez has served as a member of Moot Court Board, the Student Bar Association, and as associate editor for Seattle Journal of Technology, Environmental, & Innovation Law. Prior to attending law school, she worked for nonprofits and multiple law firms. Chavez currently works at Microsoft, where she helped launch Project Pipeline, a partnership between Microsoft staff attorneys and the Leadership Council on Legal Diversity. The project's goal is to provide resources necessary for diverse students to excel at their internships and job interviews. The interconnection of legal education, a tech career, and pro bono work has sparked Chavez's interest in the role that the law plays in emerging technologies.
"I am honored and humbled by the opportunity to serve as a student liaison," Chavez said. "To me, this selection means that my commitment to promoting diversity, equity, and inclusion within the legal field has been recognized, and I am excited to work alongside esteemed colleagues in advancing these goals. During my time on the commission, I hope to make a meaningful impact by amplifying the voices of underrepresented communities and advocating for policies that promote equity and fairness."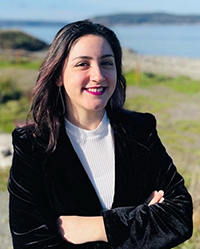 Mónica Mendoza-Castrejón is a second-year student in the Flex JD program. While in law school, this first-generation student works full time as a paralegal for King County Department of Public Defense. On campus, Mendoza-Castrejón serves as a staff editor for Seattle Journal for Social Justice and as a research assistant for Professor Steven Bender. Prior to attending law school, she interned at the U.S. Senate, worked at an immigration law firm, and was a community organizer for tenant rights and housing justice. She will extern for Chief Justice Steven González of the Washington Supreme Court this summer.
"It is a great honor to serve in this role, because I am passionate about systemic change as a whole, particularly criminal justice reform, by finding creative, innovative, and community-centered solutions to accomplish these realities," Mendoza- Castrejón said. "I am a firm believer in advocating for and centering the most disadvantaged and marginalized in society."