Seattle University School of Law has named Carwina Weng as a visiting clinical professor of law and acting director of the Ronald A. Peterson Law Clinic. Attracted to the school's reputation for experiential education, strong commitment to social justice, and student-centered focus, Weng will be responsible for leading a clinical law program that is ranked in the top 25 nationally. Her one-year appointment begins July 1, with the opportunity to take on the role permanently the following year.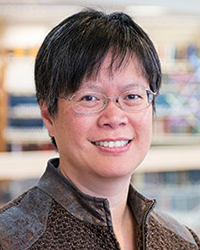 "The next year will be an exciting time to teach at Seattle U Law. The national focus on race and systemic oppression will provide an opportunity to better infuse anti-racism ideas and skills, along with equity and creativity, throughout the school's amazing clinical program," Weng said.
"Professor Weng is everything we want in a professor and clinic leader. With her exceptional teaching experience, expertise in clinical practice and clinic management, and dedication to serving students and clients, I am confident that she will bring new ideas and approaches that will strengthen a clinical program that is already one of the nation's best," said Dean Annette E. Clark '89.
Weng's path to clinical law teaching was inspired by one of her own clinical law professors at New York University School of Law, where she earned a JD degree cum laude. "I find the study of how we lawyer effectively and how we teach students fascinating. The only way that lawyers can show they have mastered what has been taught is by practicing law, which is why clinics are so vital to students' legal education."
Weng comes to Seattle U Law from Indiana University Maurer School of Law, where she has been a clinical professor of law since 2006, when she started the Disability Law Clinic. In her role, she is responsible for leading the Community Legal Clinic, a general legal services clinic that provides legal advice to disadvantaged residents of southeastern Indiana. A nationally recognized expert in clinical legal teaching, she is the lead author of the 2019 book, "Learning Law Through Experience and By Design."
Beginning in 2017, she has made annual visits to Immanuel Kant Baltic Federal University in Kaliningrad, Russia, to teach clinical law skills as a visiting professor. Previously, she held assistant professor positions at Boston College Law School and Florida Coastal School of Law.
Weng's practice experience includes stints with two legal services organizations: at Greater Boston Legal Services as a senior attorney, where she focused on family law, and at the Legal Aid Society Community Law Offices in New York City as a staff attorney, where she handled eviction defense, government benefits, and family law cases.
"I went into legal services because I am passionate about helping people to raise their voices and be heard in the legal system. I stay in clinical teaching because I am passionate about nurturing that commitment in the next generation of lawyers and in raising their own voices as well," she said.