The visit is part of an innovative pipeline program, now in its second year and co-sponsored by the law school, providing college students an opportunity to learn about life as a law student.
Fifteen Heritage University students visited Seattle University School of Law on Wednesday as part of a program to make law school more accessible for people from low-income backgrounds and under-represented communities.
The students are part of the Law School Admission Council (LSAC) Prelaw Undergraduate Scholars (PLUS) Program at Heritage University, a partnership between Heritage, the Northwest Justice Project, and the state's three law schools - Seattle U Law, the University of Washington School of Law, and Gonzaga University School of Law.
The program, funded by an LSAC grant, seeks to encourage more Latinx and Indigenous students from Central Washington to consider law school and legal careers.
Heritage University is a small, private university in Central Washington that educates primarily Latinx and Native American students. Most Heritage students receive financial aid and are the first in their families to attend college.
Professor Steven Bender, who is also associate dean for Planning and Strategic Initiatives, said the goal of the program, now in its second year, is to produce lawyers who will return home to the Yakima, Washington, area.
"Central Washington is a legal desert," said Bender, who taught a class to the program participants. "There is a tremendous need for lawyers who represent and reflect the diversity of the local community."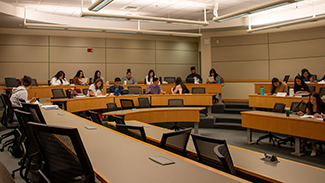 During their day at Sullivan Hall, the Heritage students attended a class taught by Professor Jeffrey Minneti, assistant dean for Academic Excellence and Bar Success, where they examined the facts of a homicide case and were tasked with deciding how they would charge the defendants.
"It was refreshing," said participant Andrea Lopez of Yakima, a psychology major. "It gave me insight as to what to expect when I come to law school."
"It was very rewarding, and it made up my mind that this is what I want to do," added Ana Michel of Sunnyside, who is majoring in business.
The mother of eight has already decided that she wants to enroll in Seattle University's hybrid-online Flex JD Program, which will allow her to study law while caring for her family at home. Once a lawyer, she plans to focus on criminal justice and immigration. Her own family came to the United States from Mexico, and she hopes to make the process easier for future immigrants.
"There are not a lot of bilingual lawyers," Michel said.
Before visiting the law school, program participants went through a rigorous training at Heritage that included a mock law class and mock clinic, a visit to Yakima County Superior Court, and career counseling to prepare the students for the admissions process. Washington State Supreme Court Chief Justice Steven C. González and Justice Mary Yu were among those teaching the students. Everyone who completes the program will receive a stipend to help offset some of the costs of attending law school.
This year, 29 students participated, similar to last year. Out of last year's cohort, two students chose to study law at Seattle U — two more future lawyers-in-training.