For two of this year's scholarship recipients, coming to law school is an important stop on a journey that began in their teen years, and it feels like coming home.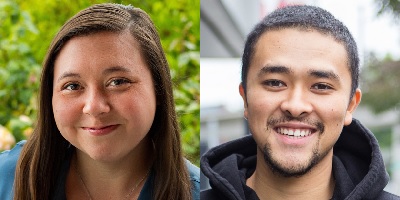 Cole Story, this year's Scholar for Justice, has dedicated his life to public service and youth advocacy. He's excited to bring his perspectives and experiences as a Black and Filipino first-generation law student to continue to advance diversity and equity in a field that needs new voices.
Jessica Pouley, recipient of the Douglas R. Nash Native American Law Scholarship, finds inspiration in the years she spent watching her parents, both lawyers, serve the legal needs of Washington's Indian tribes. She's now poised to join them as a member of the legal profession. Both scholarships are three-year, full-tuition awards that recognize outstanding law students. The Scholars for Justice award goes to a student committed to working in public interest, and the Nash award goes to an enrolled member of an Indian tribe (or lineal descendant of an enrolled member).
"I'm a first-generation college graduate and will be a first gen lawyer," Story said. "It's always been important to me to find a way to give back to my community."
After graduating from Pomona College with a degree in public policy analysis in 2015, Story returned to Seattle's Garfield High School — his own alma mater — as an AmeriCorps member to empower marginalized students to prepare for college.
"I was inspired to take on this role because I was involved in a similar college prep program for Black students at Garfield, the Urban Scholars program. Through that program, I got to sit in the presence of Black icons like Common, Dr. Maya Angelou, Dr. Cornel West, and even President Obama. It's because of this program that I saw myself as someone capable of achieving my dreams."
He later served as the program manager for a youth-led, nonprofit organization called the Service Board, which combines mentorship, community service, social justice education, and outdoor recreation to foster the development of youth leaders in the community. Most recently, Story worked at YouthCare, an organization dedicated to supporting young people experiencing housing instability.
"I believe that now, more than ever, is the time for youth voices to be amplified," he said.
For Pouley, law is practically the family business. Her mom, Theresa, served on the Indian Law & Order Commission and her dad, Mark, served as chief judge for the Swinomish Tribal Court for 15 years. Theresa Pouley is an enrolled member of the Colville tribe, and both parents are judges on the Colville Tribal Court of Appeals.
"When I was 15, I watched my mom testify before the U.S. Congress about violence against native women, and that was a formative moment for me," Pouley said. "The statistics are astonishing — one in three native women suffers domestic violence in her lifetime. I made the decision then to do something about that."
Pouley got her degree in American cultural studies from Western Washington University's Fairhaven College in 2014 and worked for several years as a domestic violence victim advocate and instructor at Northwest Indian College in Bellingham before deciding to come to law school. She said her parents encouraged her but tried not to push her toward a career in the law.
"I did a master's degree in Indian law online from the University of Tulsa, so I think they knew that would open the door for me," she said. After applying for the Nash scholarship, she discovered that both of her parents had known and worked with its namesake, Douglas Nash, a widely respected lawyer and scholar who served as founding director of the law school's Center for Indian Law & Policy before retiring in 2014.
Seattle University School of Law offers these prestigious and comprehensive scholarships in accordance with its social justice mission and to encourage diversity in the legal profession.