Professor J. Christopher Rideout's favorite piece of writing advice might seem a bit unusual.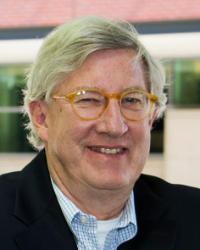 It's this: "Get out of here. Get out of school."
This last step in becoming an excellent writer is so vital, he said, because it puts a new lawyer's skills to work in the real world.
"To develop confidence in yourself as a writer and to develop a stronger writer's persona, you have to write for someone other than your teacher," he said. "I tell them, 'You took this course because you want to be a better writer. Get out of here and write.'"
After 40 years of teaching law students advanced legal writing concepts, Rideout will take his own advice to "get out of here" as he retires next month. He closes out a remarkable career with the country's preeminent legal writing program — first at University of Puget Sound (UPS) and later at Seattle University after the School of Law was acquired and moved to Seattle.
It's in large part due to his influence, along with Professor Laurel Oates, that the program rose to national prominence, ranked as the best legal writing program in the country for several years. As a non-lawyer, he emphasized the craft of storytelling in legal writing, and encouraged students to see the connections between law and literature. The advanced third-year electives he teaches - legal rhetoric, narrative, style, and voice - are unusual in legal education.
Rideout began his career as an English professor at UPS, but found himself recruited to the law school faculty by Dean Fredric Tausend in 1981, when an overabundance of first-year law students created an unexpected need for additional legal writing teachers.
"Fred was a wheeler dealer and he just called the dean of the university and said, 'I want a guy from the English department, do you have somebody you can send over?' So they sent over me," he said. "The rest is history."
It turned out to be a perfect fit.
In the 1980s, a growing trend in higher education held that the best way to teach writing was to teach it across the curriculum, in the context of learning other subject matters.
"I saw going to the law school as a great opportunity because legal writing is teaching in context," Rideout said. "Laurel and I agreed, right off the bat, that the writing program was the place for 1Ls to learn how to think like a lawyer, as well as how to write like a lawyer."
When his dual appointment across the law faculty and English department meant he had to choose between Seattle University and UPS when the law school moved in 1994, he said it was a no-brainer. He stuck with the law school.
Amanda Elyse '15 said she carries on the lessons she learned from Rideout in her own career as a legal writing professor, both at Seattle University and at Elon University School of Law in North Carolina.
"I feel lucky to have been both one of Chris's students and colleagues," she said. "He consistently brought care for students and a passion for language and legal storytelling into the classes that I took with him, and now I try to bring those things into my teaching of legal writing. I will continue to share lessons that I learned from Chris with my students for many years to come."
For several years, Rideout served as the associate director of the Legal Writing Program and served as the first chair of the Legal Writing Institute, which he co-founded. He was also the founding editor of the institute's journal, Legal Writing, starting in 1990.
From 2007 to 2018, he served as a mentor for the institute's Sirico Scholars' Workshop, and in 2015 he hosted the Fifth Applied Legal Storytelling Conference in Seattle. The author of dozens of scholarly pieces on legal writing, Rideout received the Mary Lawrence Award for Legal Writing Scholarship in 2009.
For all his accomplishments, however, Rideout said he is most proud of his selection by students as the Outstanding Faculty Member four times. His dedication to students, after all, is the reason he never became a lawyer.
"I planned to go to law school, but I ended up with a teaching fellowship as part of my English doctoral program and by the end of the first quarter I had fallen in love with teaching," he said. "I loved working with the students, and it turned out I was good at it."