For the second straight year, law students and alumni teamed up to hold a one-day Housing Justice Clinic, helping residents at risk of losing their homes. Twenty clients received valuable legal counseling on issues such as the eviction moratorium, disputes with their landlords, confusing legal notices, and questions about their leases or federal housing vouchers.
The clinic, held on Pro Bono Day, reflects an ongoing commitment by Seattle University School of Law to engage with the area's housing crisis. "The possibility of losing one's housing — or losing access to an immensely helpful voucher, as our client faced — also means losing one's greatest source of stability," said student Naomi Rothenberg '24.
"Although it is disheartening that a simple complaint could jeopardize the safety of our client, it also demonstrates the need for lawyers to engage in this field. Defending housing rights not only benefits the individuals facing housing insecurity but contributes to the well-being of the entire community."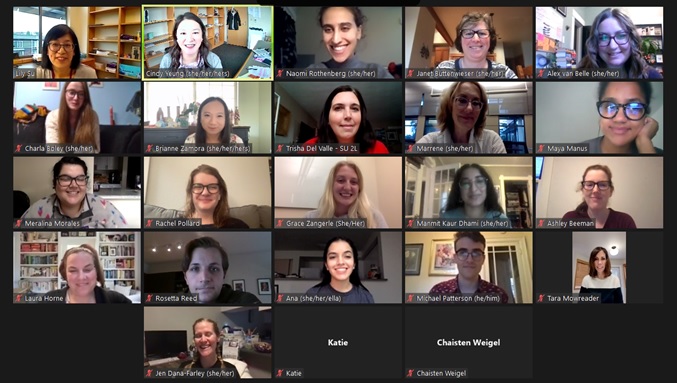 The Access to Justice Institute (ATJI) and Student Bar Association (SBA) partnered with the King County Bar Association (KCBA) Housing Justice Project to plan the Oct. 29 event. Due to the ongoing pandemic, all meetings and consultations were conducted by phone to maintain safety for clients, students, and volunteers. Twenty law students and 10 supervising attorneys participated.
Earlier this year, Washington state passed legislation creating a right to legal counsel for indigent clients being evicted, and that "has created many job opportunities for both attorneys and students," said ATJI Assistant Dean Cindy Yeung, who helped oversee the clinic.
Meralina Morales '24, the SBA's public interest representative, said law students appreciated the opportunity to help.
"As the eviction moratorium is lifted, people in our community are going to begin suffering beyond what we've ever seen. Law students at Seattle U are always looking for ways to help the local community and this was a great way to get students some clinical experience and live out Seattle U's social justice values," she said.
Michael Cherry '11, who has volunteered weekly for the county Housing Justice Project for the past seven years, said the law school's one-day clinic was an excellent introduction for law students interested in providing legal services related to housing.
"This is an area where individuals struggle to know where they can get help. This part of the law is wrapped in archaic expressions and language. None of this is written in a way the public understands," he said.
In some cases, the student-attorney teams explained a client's legal rights to them, and in other cases, they wrote letters to the client's landlord to help alleviate a conflict. Though fewer cases were directly related to the coronavirus pandemic as last year, Cherry said the lingering effects of COVID-19 were evident throughout the day.
"There's no end to the need. All we can do is try to help the people in the throes of it," he said. "They're thankful somebody helped them have the chance to tell their story, even if the outcome isn't what they hoped for."
For example, one client struggled to understand the terms of their lease because they were overwhelmed with other life crises, said student Charla Boley '23.
"COVID is always there in the background and heightens the stress and uncertainty that people are experiencing," she said.
Incoming first-year students this year focused on housing equity issues as part of law school orientation, reflecting Seattle U Law's commitment to this crucial societal need.
"I believe housing is a human right and critical for people's dignity, health, well-being, and ability to fully engage in our communities," Boley said. "As a law student, it's important for me to understand how systemic barriers to housing are perpetuated and how I can use the law to mitigate this."
The National Celebration of Pro Bono, promoted by the American Bar Association, is held every year in the last week of October.