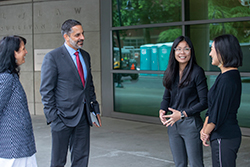 In his first address to students since becoming Seattle University's leader in July, President Eduardo Peñalver welcomed the School of Law's incoming students with an inspiring reminder about the role lawyers play in society.
"By pursuing your legal education, you'll learn powerful new ways to participate in these conversations" about how to create a fair and just society, he said.
"These are challenging times, to be sure. These are the kinds of times, though, that afford you the opportunity for tremendous growth and courage and accomplishment," he said. "Lawyers participated in and contributed to every significant social movement. Earlier generations of lawyers have helped us to wring a great deal of injustice out of our laws but there's always and still so much more to do."
Peñalver, a member of the law school's faculty and former dean of Cornell Law School, spoke to students on the second day of orientation, which also featured welcomes from Dean Annette Clark '89 and Washington Supreme Court Justice Mary Yu. Students and faculty also held group discussions of the shared text "The Color of Law" by Richard Rothstein, as well as the Washington Supreme Court's 2020 open letter on confronting racism in the legal system.
The law school's incoming class consists of 233 first-year students – 188 in the full-time program, and 45 in the newly launched part-time Flex JD program.
For years, the law school has been the Pacific Northwest's most diverse law school, and this year is no different. Thirty-five percent of the incoming class are Black, indigenous, or people of color. Sixty-four percent are women, 34 percent are men, and 2 percent are nonbinary. Twenty-one percent are LGBTQ+.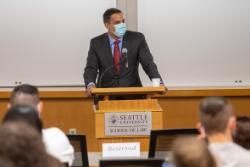 The class includes 70 first-generation college students, which is 30 percent of incoming students. Roughly 5 percent are veterans.
About two-thirds of the new students are from Washington state. They represent 124 undergraduate colleges and universities, including Seattle University, University of Washington, Dartmouth College, Stanford University, University of California at Berkeley, and Vassar College.
Noting that the students come from a wide array of professional background and lived experiences – including engineers, political activists, and musicians – Clark promised that "we, as a law school, have endeavored to create an umbrella that is wide enough to hold and to embrace each of you."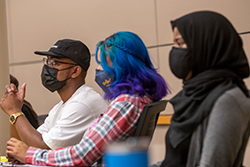 Orientation was designed with a race equity lens, with a specific focus on housing issues. This is part of the law school's commitment to build a pipeline of diverse, competent, and compassionate lawyers able to meet Washington state's recent commitment to provide representation for people struggling with civil legal issues, such as housing insecurity, Clark said.
"We are signaling to you that we in the legal profession bear the responsibility of rooting out the systemic and structural racism upon which our legal institutions were built and which continue to be embedded in our laws and legal regimes," she said.