Congratulations to Brittany Jones, citizen of the Cowlitz Indian Tribe, on obtaining her law degree from Seattle University School of Law.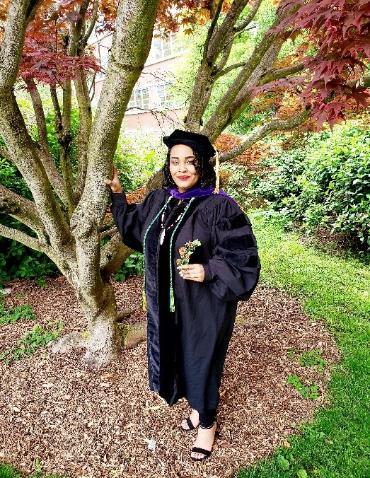 Jones, born and raised in Lakewood, Washington, never gave up on her dream to complete law school. She commuted each day from Pierce County, worked night shifts, and took a leave of absence in her third year to raise her newborn daughter in order to make it happen.
During her time in law school, Jones studied current and pending litigation relating to water rights, land rights, criminal jurisdiction on tribal lands, and other significant matters. This piqued her interest in Indian Law and the need to serve indigenous communities, especially those who cannot afford legal resources.
In the summer of 2017, she participated in the Access to Justice Technology Fellowship Program, working with Alaska Legal Services in Anchorage to produce a CLE-certified webinar that trained attorneys on adoption procedures in Alaska, with a special focus on Indian Child Welfare Act (ICWA) guidelines. She also assisted with a special project aimed at reinstating public assistance benefits to those who had their benefits arbitrarily reduced or cut off.
She is also proud of her time with Equal Justice Works, where she assisted in an ongoing federal lawsuit to have clients' medical benefits reinstated. Additionally, she assisted with legal matters such as housing and family law, conducted multiple client interviews, and attended trials.
Jones said the confirmation of Deb Haaland as the first Native American to lead the U.S. Department of the Interior reminds her "of all the work still needing to be done such as protecting land rights, preserving endangered species, and promoting tribal sovereignty."
In Washington state alone, for example, issues include the high rates of crimes committed on tribal lands, arbitrary deprivation of government benefits, and the disproportionate amount of violence impacting indigenous women and communities. "I am grateful for the support of my tribe, as well as Native American Law Student Association colleagues, the Indigenous Peoples Institute, and the Center for Indian Law and Policy throughout my journey," she said.
Her advice to anyone pursuing a legal education or simply keeping their dreams alive: "Remain resilient regardless."
Jones will spend the summer of 2021 with the Northwest Justice Project with a special focus on elder law, after which she plans to continue her advocacy for tribal communities.