As the COVID-19 pandemic continues to spread, housing insecurity has emerged as an area where legal services can provide crucial support for vulnerable communities. That need inspired Seattle University School of Law students and staff to hold a Housing Justice Clinic as part of Pro Bono Week in October.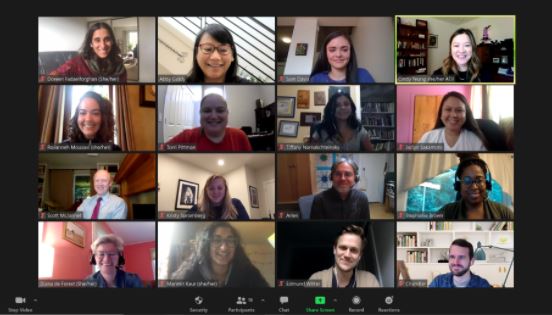 Twenty law students teamed up with 13 volunteer attorneys during the one-day event to serve 22 clients on a range of housing issues, most of which were related to the pandemic.
In March, Washington Gov. Jay Inslee issued a moratorium on evictions in the state, due to the economic hardships faced by workers who have lost their income and to help prevent the spread of the virus. However, low-income people often still need assistance to keep from losing their homes.
The moratorium, extended until Dec. 31 of this year, prevents the eviction of tenants for nonpayment but "does not by itself solve all housing issues," said Torri Pittman '21, the public interest representative for Seattle University School of Law's Student Bar Association . "It is just as important now as it has ever been to address housing issues."
Client questions ranged from termination of rental agreements, violations of the state's eviction moratorium, and review of rent repayment plans.
Pittman helped to coordinate the event, along with the Access to Justice Institute (ATJI) and the King County Bar Association (KCBA) Housing Justice Project. To maintain safety for clients, students, and volunteers, all meetings and consultations were conducted by phone.
Attorney Peter Talevich '09 has volunteered for the Housing Justice Project since 2012 and worked with students during this clinic. He said the project relies on non-attorney volunteers to help assess clients' needs.
"The students I worked with were empathetic, professional, and engaged," he said. "They also brainstormed with me on the advice and services we ultimately provided to the client, because these issues often require both legal advice and practical advice."
In some cases, the attorney-student teams explained clients' legal rights and provided resources to better advocate for themselves. In other cases, they contacted landlords directly to protect the clients' ability to stay in their homes.
Because the eviction moratorium carries the force of law, said student volunteer Timea Soos '23, lawyers are uniquely positioned to assist the people it's meant to protect.
"I strongly believe that lawyers have a social responsibility to give back to their communities, whether professionally or in a personal capacity," she said.
Soos, who is a First Year Fellow for ATJI, worked as a consultant for housing nonprofits prior to law school and plans to continue a similar client-centered path after graduation.
"Affordable housing is closely tied to growing income inequality, and I believe that lawyers have potential as agents of change to support the public good with affirmative litigation," she said.
This is the second clinic that ATJI has co-sponsored with the student bar and KCBA, with hopes to make it an annual event. Experiential learning opportunities are vital to legal education and exemplify the law school's Jesuit values.