Updated April 4, 2022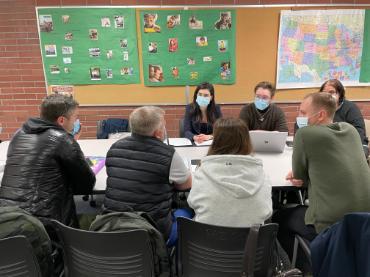 Seattle University School of Law has partnered with Refugee & Immigrant Services Northwest to provide legal assistance to more than 30 Ukrainian refugees fleeing their war-torn home country. Thirteen student volunteers, overseen by professors and licensed alumni attorneys, helped refugees complete the initial paperwork required to seek asylum in the United States.
The event took place at Everett Community College on Sunday, April 3.
Associate Professor Deirdre Bowen, the Moccasin Lake Foundation Chair in Family Law, recruited students from her classes, as well as the attorney mentors who will train and supervise the students.
"Some of these refugees today have gone through a horribly, horribly traumatic experience and I want [the students] to develop the empathy to always remember that these are human beings and that part of your lawyering skills are to learn empathy," she told KING 5 News.
Van Dinh-Kuno, executive director of Refugee & Immigrant Services Northwest and herself a former refugee from Vietnam, provided interpreters and childcare for the refugee families at the event. Since the refugees' recent arrival, her group has been busy finding housing, food, and work opportunities for the Ukrainians.
"I was amazed at how many people showed up to help, but also how many people came to begin their immigration journeys. I was lucky to be paired with a great translator, Alina, and partner, Ashley. We were able to work with a young couple and a mom with three kids. It was an overwhelming experience in many ways: We were able to gather all documents and fill out complete applications in only hours, a process which could take weeks. It was also emotionally overwhelming. I am always in awe of the optimism and hope of individuals and families fleeing areas such as Ukraine. I was so happy to help and hope the best for all the individuals present today." (Devyn Blakney, second-year student)
The refugees, who recently arrived in Snohomish County, traveled through multiple countries and arrived in the United States on foot through the southern border with Mexico. They were granted what's known as "humanitarian parole," which is temporary. A grant of asylum offers permanent protection, but the process can take up to two years.
Bowen said the students worked with the refugees, via interpreters, to build "skeletal applications" for asylum. They will then be directed either to a law school practicum or affordable legal services in the community to complete the asylum process.
"We hear about humanitarian crises in the news all the time, but rarely do we get the chance to directly help. Being able to assist Ukrainians was an honor and a privilege. I feel that those of us who are not facing such atrocities are obligated to help those who are in any way we can. As a law student, I am glad I had the opportunity to help them with the asylum application process." (Dorsa Bazeghi, second-year student)
"These incredibly brave people have been through more than any of us could imagine, and what struck me was how in spite of their immense struggles, they were still able to laugh, smile, and joke around with us. Their spirit of hope and resilience was truly inspiring to witness, and I'm very fortunate to have been involved in this experience." (Julianna Morris, second-year student)
Visiting Assistant Professor Paula Enguídanos, a 2003 alumna who practiced immigration law before joining the law school faculty, and 2014 alumnus Patrick Patton, who currently practices immigration law at Salish Sea Law Group in Tacoma, trained the student volunteers in how to help the refugees.
"Sometimes it is hard to know what to do in a world where so many different crises are occurring, and the need is so great," Enguídanos said. "When Professor Bowen asked, I thought: I know what to do, I know I can do it, and hopefully it will bring a group of people fleeing war a sense of peace and security."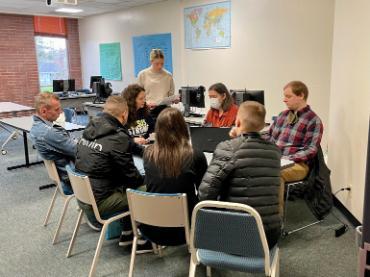 Patton echoed Bowen's aspirations to build on this initial effort to make sure future legal services are available for other families arriving from Eastern Europe. "With the help of private donors, we can turn this into a full-on collaboration where we can make a lasting difference, and help these families get the relief they deserve."
Beyond the legal expertise students can offer, law student Alicia Edwards said it will be meaningful to the refugees simply to be treated with welcome and compassion. As Christians, she and her family fled religious persecution in their home country of Moldova in 1994.
"People don't just leave their countries overnight, on a whim," she said. "They're coming here because it's life or death for them. They're wondering if they're welcome here. So that human element, that compassion, is very important."