Anthony E. Varona, dean and professor of law, welcomed Seattle University School of Law's newest students this week with a reminder that they not only belong in law school but are also needed to help shape the future of the legal profession.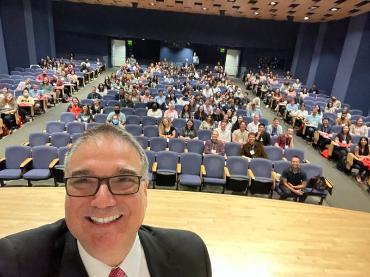 "We need your intelligence. We need your passion for changing the world. We need your compassion and equanimity," he said. "We need the richly diverse perspectives and experiences that you represent. We need what you have already learned about life and the world."
Indeed, the entering class of first-year law students comes from a wide variety of life and career backgrounds. Admitted students include public servants (including a local mayor), labor activists, military veterans, aerospace and computer engineers, athletes, and musicians.
There are 224 students in the class, with 178 full-time students and 46 in the hybrid online Flex JD program for part-time students.
Students of color comprise 37 percent of the entering class, an increase from 35 percent last year. Thirty-two percent were the first in their family to attend college.
Seattle U Law continues to lead as a welcoming environment for lesbian, gay, bisexual, and transgender students, with 28 percent members of the LGBTQ+ community. Two percent of 1L students this year are nonbinary or non-gender conforming, while 56 percent are women and 42 percent are men.
The students came to law school from 105 different colleges and universities, including Seattle U, University of Washington, University of California Berkeley, Brandeis University, Brigham Young University, Georgetown University, University of Chicago, University of Oregon, and Whitman College.
Most are Washingtonians at 63 percent, while 37 percent came from out of state.
Eight percent of entering students served in the military.
In welcoming the students, Varona shared his own experience of growing up as a Cuban immigrant, learning English only as a third language. He reassured the students that the law school's faculty, staff, and alumni were committed to their success.
"Lawyers are ministers of justice. We are architects of society," Varona said. "We build the scaffolding that keeps our democracy together and strong, so we need to reflect the experiences and perspectives and walks of life from the members of our self-governing democracy. We need to reflect the communities we serve."