Seattle University School of Law is pleased to announce that it has granted its inaugural Justice Mary I. Yu scholarship to part-time student Erin Lewis.
Justice Yu is the first Asian, the first Latina, and the first member of the LGBTQ community to serve on the Washington Supreme Court. The scholarship honors and acknowledges all that she represents to people who never dreamed that someone like them could become a state supreme court justice.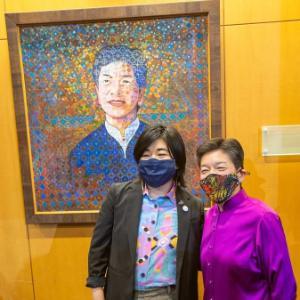 "I am humbled and honored to receive the Justice Mary Yu Scholarship. Justice Yu's service to the community fills me with optimism and motivates me to continue working towards creating a more just future. For a non-traditional, queer, first-generation advanced degree seeker of color such as me, Justice Yu stands as a promise of what can be for those who live authentically. I receive this scholarship with gratitude to the School of Law at Seattle University for their dedication to creating a more inclusive legal field," Lewis said.
The scholarship is awarded to one or more students per year. In 2021, its first year, the award is $3,500. In subsequent years, the total amount awarded will be at least $5,000.
Generous investors in the law school made the scholarship possible. Donations also funded the purchase of a commissioned portrait of Justice Yu, which will hang in Sullivan Hall at Seattle University for three years before moving to the Temple of Justice in Olympia. The painting is by renowned Seattle artist Alfredo Arreguin and was unveiled at a reception in Justice Yu's honor at the law school on Nov. 3.
Dean Annette E. Clark '89 noted that the scholarship recognizes Justice Yu's devotion to encouraging the next generation of powerful advocates for justice.
"Justice Yu has mentored, guided, and inspired countless students over the years. Her commitment to building a better, more representative, and more equitable justice system in our state is unwavering. It is our honor to share in and support her vision," Clark said.
About Justice Mary I. Yu
Justice Mary Yu was appointed to the Washington Supreme Court in May 2014, and then elected to the position in 2014 and 2016. She joined the state's high court after more than 14 years as an accomplished trial court judge in King County Superior Court.
Justice Yu has an extensive record of service both on and off the bench and has been recognized with several honors and awards. She co-chairs the Court's Minority and Justice Commission; chairs the Board for Judicial Administration's Public Trust and Confidence Committee; teaches at Seattle University School of Law as Jurist in Residence; and co-chairs the Washington Leadership Institute.
Justice Yu was raised in Bridgeport, a South Side neighborhood in Chicago, by immigrant parents; her mother came from Mexico and her father from China. She is the first in her family to graduate from college. She received her BA from Dominican University, her MA in religious studies from Mundelein College of Loyola University in Chicago, and her JD from the University of Notre Dame Law School.
About Erin Lewis
Erin Lewis (they/them) is a first-year student in the law school's Flex JD program and a member of the Access to Justice Institute's First Year Fellows program. Prior to Seattle University, Lewis double-majored in sociology and women's studies at the University of Nevada, Reno, where their research interests included the legal construction of socially constructed categories and gendered violence.
During the day, Lewis serves as an executive assistant at Seattle Central College. They also serve as a Title IX investigator and an inclusion advocate for hiring committees.