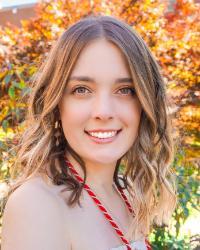 Cierrah Loveness is an aspiring public defender from Mount Vernon, Washington, and the first recipient of Seattle University School of Law's newly created Dean James E. Bond Endowed Scholarship.
Loveness studied forensic psychology as an undergraduate at Seattle U and decided to continue her legal studies at the place where she had made lifelong friends and mentors.
"I was motivated to pursue a legal education because I saw it as an opportunity for social change," she said. "I knew that continuing my education at Seattle U Law would give me the community connections and support needed to be a true advocate for social change and better prepare me to be a competent lawyer interpersonally and academically."
Bond, who passed away in 2019, was the law school's longest-serving dean and was known for his high standards, his love of lively debate, and his enthusiasm for life.
Georgana Bond, his beloved wife of more than 50 years, endowed the scholarship with a $50,000 gift to the law school, which was then matched by an anonymous donor. The scholarship provides $5,000 in annual support to a selected student.
Loveness, who expects to graduate in the spring of 2023, began her first year of legal studies online during the COVID-19 pandemic. Despite the challenges of online education, Loveness said she was reassured by the care shown to her and other students by the law school faculty. In particular, she enjoyed studying legal writing with Professor Liz Ford.
"She demonstrates so much grace and humility that will influence me in years to come with my future clients," she said. "I want to fight for each person to have an inalienable right to be seen, heard, and to be treated with dignity."
The scholarship gives her the financial flexibility to focus more on professional aspirations. "I've been struggling socially due to living farther away from campus but this scholarship award makes me feel seen and motivated to be more deeply involved at the law school," she added.
The scholarship is intended for first-generation students with demonstrated financial need and academic merit, and who exhibit humility, civility, and a sense of humor.