"Court on Trial," co-authored by renowned India legal expert Sital Kalantry, is getting global media attention for shedding light on the inner workings of India's highest court.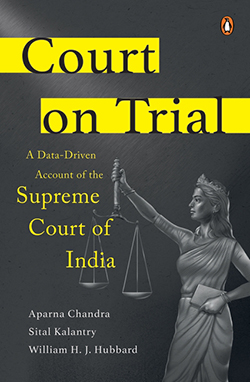 Many books have been written about the Supreme Court of the United States, whose decisions on often-controversial legal issues are an endless source of passionate debate.
But another Supreme Court presiding over the largest democracy in the world is the subject of a critical examination in "Court on Trial," a new book co-authored by Seattle University School of Law Professor Sital Kalantry.
"Our book gives a window into the inner workings of the Supreme Court of India," said Kalantry, who is also associate dean of International and Graduate Programs and founder of Seattle University's RoundGlass India Center. "The book is a rigorous academic study using quantitative methods to uncover the workings of the Supreme Court. It looks at things that have been long-debated without any data."
The book is the result of a decade of collaboration between Kalantry and her co-authors, National Law University, Delhi Professor Aparna Chandra and University of Chicago Law Professor William H.J. Hubbard.
"Professor Kalantry's latest book, which is a tour de force, is just one of many examples of our faculty's deep knowledge of international legal topics," said Dean Anthony E. Varona. "Professors at Seattle University School of Law are engaged with global issues, and their innovative research reaches audiences around the world."
The Supreme Court of India differs substantially from its American counterpart. Instead of nine justices, 34 judges sit on India's court, which was founded in 1950 as India established itself as a republic after gaining independence from British rule.
The authors examined controversies within the court, such as the role of senior advocates, protracted delays in receiving justice, and the ways in which judges are appointed.
"Institutionally, there is significant room for improvement and reevaluation to determine if the existing structures, many of which were based on colonial norms, still work in modern India," Kalantry said.
The judicial appointment process is especially in need of reform, the authors write. Currently, the chief justice, in consultation with four of the most senior Supreme Court judges, recommends candidates to fill judicial openings in the Supreme Court and High Courts.
Additionally, the chief justice chooses smaller groups of judges to decide each case, rather than all 34. While this is ostensibly done for efficiency, the data suggests that chief justices might assign certain cases to judges based on how they are likely to rule on each case.
"There is a lack of transparency and unchecked power," Kalantry said.
Another area of worry is the relatively young retirement age. Right now, judges must retire when they turn 65. This means that many judges do not sit on the court for very long, leading to a high turnover rate. Kalantry has additional concerns about the retirement age.
"There are incentives to pander to the government, so they can get retirement appointments," Kalantry said of the judges.
Research-heavy books by college professors are often published by small university publishers, but "Court on Trial" attracted support from mainstream Penguin Random House, a trade industry giant.
The book is reaching a large, global media audience. BBC News recently called it an "exhaustive, data-driven account" that uses "compelling evidence" to present "striking findings" about the court.
"Court on Trial" is just one way in which Kalantry stays involved in global issues. Kalantry is part of the organizing committee of the Seattle-Setu Conference in September, which will feature discussions with U.S. and Indian political and business leaders about ways to build stronger commercial ties between the two countries. The conference will officially launch the RoundGlass India Center.
"The Center was designed to serve as a bridge between India and the United States," Kalantry said. "It will be the venue for convening important political, economic, and scholarly dialogues about India in the Pacific Northwest."