Dean Varona launches effort to internationalize Seattle U Law
This story originally appeared in Lawyer, Spring 2023.
As he began his deanship last summer, Anthony E. Varona articulated an ambitious vision: to transform Seattle University School of Law into a global institution — one known for its quality both domestically and internationally. That Varona considers this achievable is tied to two built-in advantages.
First, Seattle U Law is strategically located in the heart of a city known as a world capital of technology and innovation, home to global companies such as Amazon, Starbucks, Microsoft, and Boeing, among many others. And second, the law school has a strong foundation in international law, with multiple courses, an LLM program that attracts foreign students, a Germany exchange program, a highly regarded international human rights clinic, and a deep roster of talented international law faculty.
The effort to internationalize the law school has two primary components: create courses, programs, and opportunities for domestic students to gain knowledge and expertise in international law, and grow and develop programs that will attract foreign students to the law school, primarily for the purpose of qualifying to sit for licensing exams in certain U.S. states.
Varona's vision is in service to valuable educational goals; namely, the law students of today and tomorrow need a broader knowledge base than ever before. "In a more globalized, more connected world, it is becoming increasingly the case that no matter where our students end up practicing, they are more likely to come across issues in foreign or international law," said Professor Ron Slye, who has decades of experience in the field.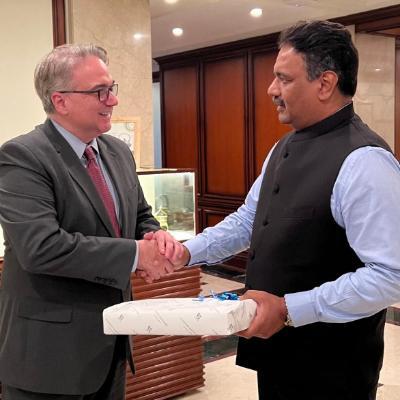 "I want our law school to become a convening space for students and faculty from around the world," Varona added. "Our domestic students benefit from exposure to different legal ideas and frameworks, while foreign students can use the world-class legal education they will receive to create better futures for themselves, either here in the U.S. or in their home countries," Varona said. A Cuban immigrant and naturalized American citizen, Varona is emblematic of professionals, legal or otherwise, who comfortably straddle different nations, languages, and cultures.
To help achieve this vision, Varona tapped Associate Professor Sital Kalantry to fill a newly created position as associate dean for international and graduate programs. She brings a wealth of experience developing successful international legal programs, primarily in India, during her tenure at Cornell Law School. In addition to her teaching and administrative roles, Kalantry also founded the India Center for Law and Justice, which works with law schools across India to promote legal education and mentor emerging scholars.
A cornerstone of international growth is to expand the Master of Laws (LLM) degree, with options in Technology and Innovation and in American Legal Studies. Designed for foreign-trained lawyers, the program has only enrolled a few students each year since its inception. Kalantry has been working intensely to improve this outcome.
"What we are trying to do is reach prospective students in a strategic way," Kalantry said. "Our location in Seattle, and our proximity to well-known tech companies, is a powerful draw for overseas law students."
After working as an attorney in India for more than 10 years, Nidhi Mudgal enrolled in the Tech LLM program to advance her career and practice law in the U.S. "I was happy with my work, but I wanted to challenge myself. I want to work as a lawyer in the tech industry, but it's difficult to make that switch. I hope to use this degree as my springboard to a new direction in my career," she said.
The decision to focus on India first was a logical choice given Kalantry's experience. Efforts to reach prospective students include implementing targeted digital marketing and forging relationships with law schools across the subcontinent.
In September, Varona signed an agreement with O.P. Jindal Global University (JGU), one of India's most prestigious higher education institutions. A new pathway program will allow students at Jindal's law school to pursue an LLM degree at Seattle U Law while they finish the final year of their undergraduate education. Reciprocally, select Seattle U Law students will participate in a weeklong India Immersion Program each spring that will include lectures, workshops, study tours to legal and other public institutions, and cultural visits during a trip to India.
Professor C. Raj Kumar, founding vice chancellor of JGU and founding dean of its law school, applauded the collaboration. "Partnerships like this one will help build young professionals who are ready to take up global challenges," he said.
In March, Kalantry led a group of her students on the first of these immersion visits. "This program has been one of the highlights of my law school career," 3L student Julia Doherty said. "Not only have I gotten the opportunity to learn about the workings of another legal system up close, but I have been able to build relationships with my peers on the other side of the globe. This will enhance my career for decades to come."
This past December, Varona embarked on a whirlwind tour of India with Seattle University President Eduardo Peñalver and other university leaders to cultivate additional connections, resulting in memoranda of understanding signed with several universities and law schools in India, including RV University School of Law in Bengaluru (Bangalore), located in central India.
"The trip was an amazing success," Varona said. "We had many conversations with prospective students, scholars, and legal education administrators throughout India. There was significant excitement about Seattle University because of our Jesuit Catholic mission and because we are in the heart of Seattle."
More recently, in March, Varona received word that the American Bar Association greenlighted the law school's new Doctor of Juridical Science (SJD) program, which he identified as a need. The program, designed primarily for foreign students who desire a research degree to teach law or serve as judges in other countries, will enroll its first students this fall.
Early results have been promising. Inquiries and applications for the LLM program are up. The flurry of new initiatives has attracted the notice of National Jurist/preLaw magazine, which awarded the law school an A in international law this year. As current programs expand and new programs are added, the plan is to reach students in additional regions and countries.
"That our recent efforts at internationalization, building upon our longstanding strengths, have already attracted favorable notice is very encouraging," Varona said. "The future of law knows no borders, and I am delighted that Seattle U Law will be a leader in global legal education."