Washington Women Lawyers (WWL) selected Dean Annette Clark '89 as the 2021 recipient of the Justice Mary Fairhurst Passing the Torch Award, which recognizes an individual who has gone above and beyond in mentoring women lawyers and making a difference in the legal community.
The group will present the award to Clark at its annual event and 50th anniversary celebration on Oct. 16, 2021.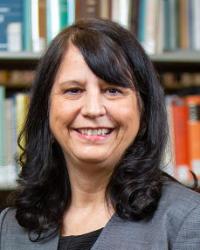 "Dean Clark was selected for this award in recognition for her longstanding commitment to advancing equal opportunities for the legal training, mentorship, and advancement of women in the Washington state legal community," said WWL board member Kellen Patterson.
The award is named in honor of the Honorable Mary Fairhurst, who retired as a justice on the Washington Supreme Court in January 2020. She was elected by her peers to a four-year term as chief justice in 2016.
"I'm deeply honored to receive this award that recognizes Justice Fairhurst's lasting legacy within our state," Clark said. The law school's Womxn's Law Caucus honored Fairhurst with its Woman of the Year Award in 2018.
"Justice Fairhurst has been an invaluable mentor to so many of our students, and I have always looked to her as an example of how to lead with compassion, conviction, and integrity."
Patterson praised Clark for her "invaluable work promoting the mission and ethos of WWL, leading by example over the course of her distinguished 35-year career."
The group's mission is to further the full integration of women in the legal profession, promote equal rights and opportunities for women, and prevent discrimination against them.
Clark graduated summa cum laude from Seattle University School of Law in 1989, when the school was previously affiliated with University of Puget Sound, and joined the career faculty immediately thereafter. Her areas of expertise include civil procedure, medical liability, bioethics, and legal education. She is a frequent regional and national lecturer on these topics.
She became dean in 2013 and has announced her plans to step down from the deanship at the close of the 2021-22 academic year.
Clark received the Seattle Journal for Social Justice Faculty Award in 2005, the Dean's Medal in 2006, and the Outstanding Teacher Award from the graduating class in December 2007 and December 2011. She was also named the James B. McGoldrick, S.J., Fellow in 2008-09. In 2018, Mother Attorneys Mentoring Association awarded her the Betty Binns Fletcher Leadership and Justice Award for her work on behalf of women in the legal profession.
Learn more about the WWL Annual Event and Awards.