Congratulations to Ms. Jessica Pouley, Colville Confederated Tribes, who will earn her Juris Doctor in May from Seattle University School of Law! Ms. Pouley was chosen as the 2020 Douglas Nash Scholar, a scholarship awarded to a Native student who shows a commitment and involvement in Native American or Native Alaskan issues.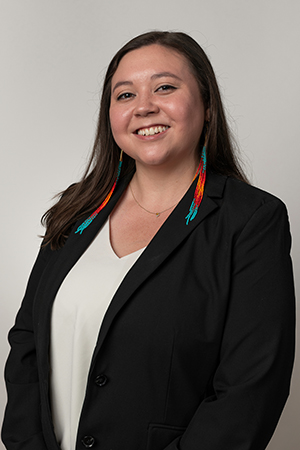 Jessica came to SU Law with a background in federal Indian Law, teaching a course at the Northwest Indian College in Bellingham, WA. While in law school Ms. Pouley stepped up as a leader in the Native American Law Students Association and the American Indian Law Journal, serving as Co-President and Editor-in-Chief. In addition, Jessica was instrumental in creating a legal partnership between SU's Native American Law Students Association chapter and Skagit Legal Aid to provide pro-bono legal services to the Swinomish Tribal Community.
Ms. Pouley spent her summer as an intern at Legal Counsel for Youth and Children, who brought her into their team specifically because of her experience with Tribal communities and Native youth. Ms. Pouley also served as a Udall intern, a highly competitive internship that provides Native American and Alaska Native undergraduate, graduate, and law students with the opportunity to gain practical experience with the federal legislative process, helping them understand firsthand the relationship between tribes and the federal government.
"My education and career have been dedicated to service in Indian Country with a particular focus on ending violence against Native women and youth. In my legal career, I plan to continue working directly with Tribal communities and government organizations to promote policies and programs that bolster Tribal sovereignty. Tribal people are the key to solving the issues facing their own communities and a goal of mine is to increase Tribal jurisdiction and authority to enable Tribes to respond to issues directly in a culturally appropriate way without the need for intervention by state or federal agencies."
Thank you, Jessica, for your dedication and service, we wish you the best of luck on your legal journey.