Professor from Practice Leonard J. Feldman's appointment to the Washington State Court of Appeals, Division One, was recognized and celebrated last week during a swearing-in and robing ceremony that was hosted by Seattle University School of Law, his professional home for the past three years.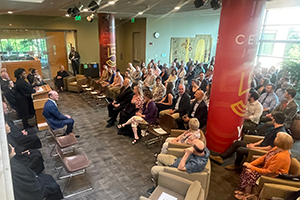 During an official hearing of the court, attended by the nine current sitting judges, Chief Judge Lori K. Smith administered the oath of office, followed by Feldman donning his judicial robe with the help of his wife, Kristine. He is now the court's 10th member.
"Leonard comes highly recommended by other practitioners in the community," said Gov. Jay Inslee, who appointed Feldman to the position. "He is smart and creative, and he will bring energy and valuable appellate experience to the bench."
Feldman joined the law school in 2020, where he taught first-year torts and upper-level federal courts classes. He quickly became a favorite of students, simultaneously known for being rigorous and compassionate in his teaching style. As evidence of this, he was nominated in 2021 and again in 2023 to receive the Outstanding Faculty Award. With his appointment, he will transition to a position as a Distinguished Jurist-in-Residence at the law school and continue teaching first-year torts.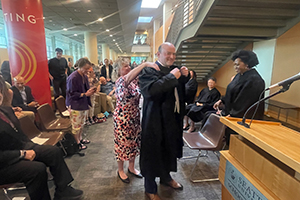 "I'm looking forward to beginning this new chapter of my career, where I have the privilege of sitting on the bench and providing justice to those who appear before the court while continuing to teach my favorite class at Seattle University School of Law," Feldman said.
For more than 30 years, Feldman has practiced law in the Seattle area, serving as a litigation attorney focusing on appellate issues, commercial litigation, and civil rights claims. Working first as an attorney for law firms Heller Ehrman and Stoel Rives, he was most recently senior counsel (and previously partner) at the firm previously known as Peterson Wampold Rosato Feldman & Luna.
His practice focused on appellate litigation before the United States Court of Appeals for the Ninth Circuit and Washington state appellate courts. Additionally, he has served as counsel of record and argued two cases before the U.S. Supreme Court.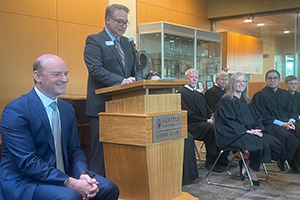 At Harvard Law School, Feldman was awarded the Sears Prize twice, given to two students with the highest GPAs, and graduated magna cum laude. He then clerked for Judge Jerome Farris on the Ninth Circuit.
"Professor Feldman has brought to our law school a wealth of experience from his time in practice as an elite appellate litigator," said Dean Anthony E. Varona. "I am thrilled that he will become a Distinguished Jurist-in-Residence so that he can continue to benefit our students with his extraordinary teaching. He not only is an outstanding teacher and brilliant practitioner, but he also is a wonderful colleague who no doubt will be treasured by his fellow judges and clerks."