On a recent Saturday morning, the main floor of Dean Anthony E. Varona's home, located just blocks from campus, is packed. Ever the multi-tasker, he busily floats between his kitchen and living room, bringing out heaping plates of food while warmly greeting his mingling guests: law students, faculty, senior administrators, and alumni of Seattle University School of Law.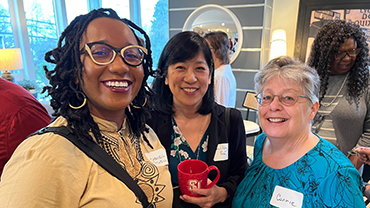 Varona has invited them into his residence as part of a series of intimate brunches he organized earlier in the semester for law student associations representing Black, Latinx, Asian, Native American, Pacific Islander, Middle Eastern and South Asian, and LGBTQ+ students. It is Varona's hope that he can send a powerful message to students from these underrepresented groups — that each of them belongs here, both in law school and in the legal profession.
This resonated with students like Shiki Izuka, a 3L who is a member of the Asian Pacific Islander Law Student Association (APILSA). "Dean Varona cares about students and I felt supported when I saw his invitation to brunch at his home," he said. "At the event, he told us about how the legal profession needs minority students. The event also made minority students closer to each other and allowed us to have a moment of solidarity."
When Varona was a law student himself nearly three decades ago, he had a nagging feeling that he didn't belong. As a Latino, multilingual, gay, and first-generation student from a working class, immigrant family, he was the proverbial fish out of water, vastly outnumbered by a largely white and privileged student body.
"Although I ultimately enjoyed law school and had devoted professors and mentors, the lack of even one Latinx or openly LGBTQ tenure-track professor, and the scarcity and near invisibility of other students like me, made me feel out of place," he said. "I never want any of our students to feel like I did, especially when the legal profession should not just welcome but desperately needs many more lawyers from minoritized backgrounds."
First as a professor and now as a law school administrator, Varona has been hosting brunches as part of his commitment to creating a more welcoming environment. "In my Cuban-American culture, food is used to welcome and honor guests. We say 'nuestra casa es su casa,' or 'our home is your home,' and we mean it. These brunches are intended to make our minoritized students feel more at home, literally, in their law school community."
That gesture of hosting at his house was meaningful to those who attended, and even a bit unexpected.
"It was definitely out of the ordinary," said 3L Reeya Patel, president of the Middle Eastern South Asian Law Student Association (MESALA). "I transferred from another law school where I didn't have any personal interaction with the dean. I've now had a chance to meet Dean Varona in person multiple times. It's different and pleasant to see that. Especially because he understands firsthand the difficulty of finding your way in law school as a student."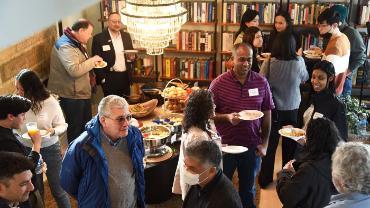 "He really set the tone by welcoming us into his home," said Seattle Municipal Court Judge Anita Crawford-Willis '86. "Dean Varona is a very warm and engaging and welcoming person, and it was the perfect venue to mix and mingle with students in a less stressful environment."
The underlying goal of efforts like these undertaken by Varona and the law school is to help ensure diverse law students persist in their efforts to finish law school and become successful legal professionals in practice. He believes distinguished alumni and other leaders of the profession — including judges, senior government lawyers, bar association leaders, and law firm partners — play a crucial role in this effort, and several were invited to each brunch to network with students, provide mentorship, and share their own advice and wisdom with the students.
According to Bree R. Black Horse '13, a senior associate with Kilpatrick Townsend and Stockton LLP who was active in the Native American Law Student Association (NALSA) as a student, the brunches "are an effective response to the concerning lack of racial and ethnic diversity in the legal profession at the state and national level. Ensuring diverse students are included and supported by legal professionals with similar backgrounds, beginning in law school, is imperative to achieving an equitable and inclusive justice system."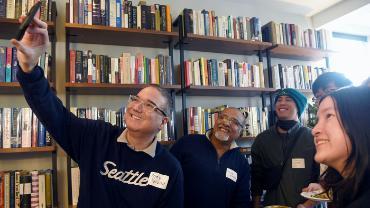 Crawford-Willis's experience shows that the brunches can be a powerful tool in this effort. "I just appreciated the opportunity to connect with students. Many of them had questions that I was happy to answer for them, and I've offered to be available to them and connect with them one-on-one throughout their law school careers and beyond," she said.
Judging from the reaction of Michael Zangl, a 2L student and OutLaws vice president, Varona is making good on his pledge to cultivate belonging in the broader Seattle U Law and legal communities.
"Events like the dean's brunches for queer students demonstrate the community and support in the law school for queer students and may also illuminate allies who can identify problematic assumptions in law and the classroom," he said.
The next series of brunches will kick off early in the fall semester, in September, again at Varona's home atop Cherry Hill.