Note: As of Nov. 20, 2020, King County Superior Court has suspended all in-person trials. (Read more.)
Before the COVID-19 pandemic hit, King County Superior Court Judge David Keenan '08 had only vaguely heard of Zoom. But by July, he was leading an educational seminar about — and on — the now-ubiquitous video communications platform, preparing local lawyers to take their trials online.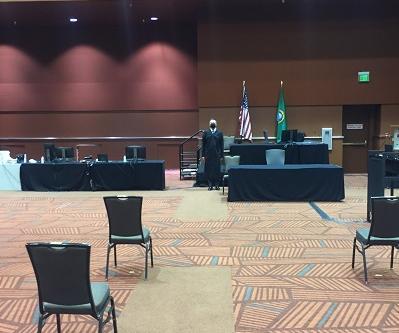 His lesson included tips for screen sharing when presenting evidence, using breakout rooms to confer privately with clients, and other procedures. (Pro tip: never send the judge a private message in the chat box.)
Teaching the intricacies of Zoom, especially in the context of something as critical and regulated as a trial, was just one of many ways Seattle University School of Law alumni have stepped up to keep the legal system safe and operational during the coronavirus pandemic.
"We continue to be guided by the principal that courts serve vulnerable populations, and that in a public health crisis, our communities need courts even more," Keenan said. "We've been focused on doing the essential work of the court in promoting justice, while working to ensure that we adapt our rules and practices to preserve the health of the public we serve."
The most dramatic change in operations has been converting Meydenbauer Center, a large convention and event facility in Bellevue, into a temporary courthouse for civil jury trials. The additional space allows jurors to be present for trials, but safely distanced from each other. It also frees up space for socially distanced trials in the county's other courthouses.
The county was able to cover the significant facility rental and equipment costs with $7 million in federal COVID relief funds.
Hearings that don't require juries — scheduling, family law issues, summary judgment motions, discovery motions, and others — can all be handled with phone or video conference calls between judges and lawyers. But jury trials, which had been halted for four months, must be held in person to prevent outside influences from affecting deliberations.
And how were those jurors selected safely? Sean O'Donnell a 2001 graduate and King County Superior Court judge, helped lead the county's efforts to implement a video voir dire system to keep prospective jurors safely at home until they are impaneled for a trial.
The new screening process uses a comprehensive questionnaire emailed to potential jurors. After their answers are compiled, follow-up questions are then conducted via video calls. This replaces a process that normally requires dozens of people to show up in person over two days. Once impaneled, jurors serve in person, observing the trial and deliberating while wearing face coverings and seated at least six feet apart from each other.
"King County is truly a national leader in this effort to show folks we can do this. There's hope. We can have jury trials and have our system of justice work," O'Donnell said.
Even though accommodations were made with jurors' health and safety in mind, juror convenience could lead to permanent change.
"I think video voir dire is here to stay because of the immense convenience for potential jurors," O'Donnell said. Anecdotally, other judges who have done jury selection by video have reported higher response rates and more diverse jury pools, he said.
"If it holds true, that's a real positive impact," he said.
Judge Patrick Oishi '96, chief criminal judge for King County Superior Court, agreed. Defendants not in county custody are usually required to appear in person for their hearings, and often they don't show up.
"But if they can appear remotely, they can still keep their work schedule, their childcare, and their treatment appointments intact," he said. "All of those things are very positive."
Judge Tanya Thorp '02, who serves on the bench at the Maleng Regional Justice Center in Kent, chairs the court's technology committee at a time when technology has never been more critical. In addition to helping Keenan develop Zoom trial procedures, she helped to expedite installation of high-quality touchscreen speaker phones in courtrooms to facilitate certain types of hearings.
"There's been a rush to videoconferencing, but it's a lot to learn," Thorp said. "Sometimes, the least fancy option is the best option -- your tried and true technology."
Beyond the day-to-day work of hearings and trials, alumni in the judiciary also stepped up to swear in dozens of recent Seattle U Law graduates who were granted a diploma privilege by the Washington Supreme Court.
Keenan alone swore in nearly 30 new attorneys over Zoom.
"We had attendees from all over the United States, as well as China and India," he said. "Also, having everyone on Zoom means I can really see the joy in everyone's faces as the new attorney is sworn in."
Oishi also helped swear in new attorneys, but said he missed the personal touch of the usual ceremony.
"The law, historically, is a people-to-people business," he said. "That's what we do."