A landmark ruling by the U.S. Supreme Court five years ago legalized same-sex marriage throughout the United States. But, as many advocates pointed out, someone could marry their partner on Sunday and get fired on Monday, because the issue of whether employment discrimination on the basis of sexual orientation was expressly forbidden by the law was still unresolved.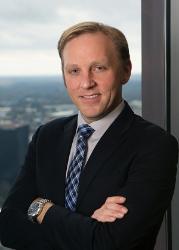 Not anymore. The high court ruled this month that Title VII of the 1964 Civil Rights Act protects lesbian, gay, bisexual, and transgender people from employment discrimination. Seattle University School of Law alumnus Brian J. Sutherland '06 represented Gerald Bostock, one of the plaintiffs in the case.
"There aren't words to say how happy I am that the Supreme Court has recognized the right of LGBTQ people throughout our country to be free from workplace discrimination," Sutherland said. "And there aren't words to say how grateful I am to the faculty and community of Seattle U Law who prepared me to play a part in that."
Sutherland credits his legal writing faculty, Professors Lorraine Bannai and Janet Grove Dickson, as well as his employment law professor, Melinda Branscomb, with teaching him the skills he needed to advocate for justice in such a high-profile case.
The late Professor Joaquin Avila was also a great mentor and friend, Sutherland said.
"I hope students know that what they're getting at Seattle U Law are nothing less than the tools to dismantle injustice in our society, and a community that will always passionately support them in that continuing effort," he said.
In an appearance at the National Press Club following oral arguments at court in October 2019, Sutherland said it was clear that Title VII already protects people from discrimination on the basis of their sexual orientation because it protects them on the basis of sex.
"It's a common sense proposition," he said. "You can't think about a person's sexual orientation without thinking about their sex."
Bostock was fired from his job as a child welfare advocate in Clayton County, Georgia — directly south of Atlanta — after expressing interest in joining a gay softball league. At the U.S. Supreme Court, his case was consolidated with two other cases of gay and transgender employment discrimination. Noted litigator Pamela Karlan, co-director of Stanford Law School's Supreme Court Litigation Clinic, delivered the oral arguments.
Formerly a partner at Buckley Beal LLP in Atlanta, the firm that handled Bostock's case, Sutherland this year returned to the west coast and now serves as assistant attorney general for civil rights at the Washington State Office of the Attorney General.
Sutherland will join Seattle U Law Professor Charlotte Garden to discuss the case at a July 9 seminar hosted by the King County Bar Association and QLaw.