(This story originally appeared in the fall 2022 issue of Lawyer magazine.)
To fully understand Tony Varona and the path he has traveled to become Seattle University School of Law's new dean, it's helpful to know several important facts. He is the first Latinx and first openly gay man to serve as dean in the law school's history. He is an immigrant who was born in Cuba. English is not his first language. He is the first in his family to attend college, let alone law school. He has a passion for the law and a love for teaching.
And he is one of the most naturally outgoing and effusive individuals one will ever encounter, dean or otherwise, with a social media presence that perfectly complements his ebullient personality. Before his first day on the job, he had already created his own hashtag: #SeattleULawSoars.
Since he accepted the deanship in mid-February, Varona has spent every spare moment meeting with hundreds of alumni, members of the legal community, and other key stakeholders, all chronicled on his active Facebook, Twitter, Instagram, and LinkedIn accounts and often illustrated with his trademark selfies. His enthusiasm is unbridled.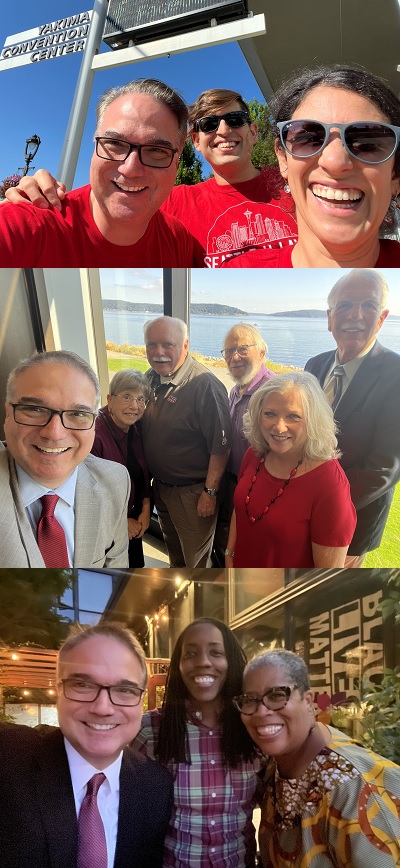 "I am elated by the opportunity to serve as Seattle U Law's dean, because this is an extraordinary law school with well-rounded and richly diverse students who graduate to be leaders in law, a superb faculty of first-rate scholars and teachers, and a talented, student-centered staff," he said.
The feeling among the Seattle U Law community is mutual, with excitement building as more and more people meet with Varona, learn about his future vision for the law school, and experience his infectious spirit firsthand.
"From his first day on the job, Dean Varona has been moving at full speed," Seattle University President Eduardo Peñalver said. "His boundless energy has been inspiring to see and bodes extremely well for the future of Seattle University School of Law."
Immigrant roots
Born in Cuba, he and his family fled the island nation's oppressive government when he was just 3 years old. They landed in a working-class neighborhood of Newark, New Jersey, where immigrants from around the world had come to create a better life. To support their growing family, his parents opened a bodega, a small grocery store catering to the immigrant communities of Northern New Jersey. Varona would often work on weekends, holidays, and vacations at the store, which became a community center of sorts for newly arrived immigrants.
Varona's experience growing up in this environment fueled his interest in law. As is common in migrant families, he became the only family member fluent in English. Relatives, often ones who had just arrived from Cuba, would seek his help to translate at government offices and various service providers.
"I would often assume a larger role than just translator. I would also become their advocate, because I witnessed firsthand how difficult it was for new Americans to acclimate into our society, be treated fairly and with respect, and access much needed services," Varona said.
After graduating from law school, Varona chose to become a practicing attorney specializing in communications and media law. After working at the Federal Communications Commission, he later served as an associate for two prestigious Washington, D.C., law firms, where he began to provide pro bono legal counsel for the Human Rights Campaign (HRC), the nation's largest LGBTQ civil rights organization. In the process, he connected with his original motivation for entering law, to become an advocate. He was eventually hired to become the organization's inaugural general counsel and legal director, where he was responsible for creating the in-house legal team from scratch.
"Tony very much helped to form the soul of the Human Rights Campaign during his time there," said Elizabeth Birch, formerly president of HRC and head of worldwide litigation for Apple Computer, and currently vice president of CBRE. His drive, passion, and intelligence helped shape our legal philosophy and approach from day one. He was as much a lion for justice as a gentle leader. It is a decision that was among the most important in the life of the Human Rights Campaign and the movement for LGBTQ+ equality."
Entering the academy
As much as he enjoyed his position with HRC, Varona learned something important about himself while moonlighting as an adjunct professor at Georgetown University Law Center. "I found the teaching of law electrifying. I still find it thrilling to be able to impart knowledge and encourage students, many of whom question whether they belong, to grow as law students and burgeoning lawyers," he said. "I still get goosebumps when I see a student find their voice and gain their confidence in my classroom."
This compelled him to enter academia full time, first at Pace University in New York and then at American University Washington College of Law, where he earned tenure and a promotion to full professor, and racked up teaching and scholarship awards, published articles in prestigious law journals, served on various national boards.
American University is also where he began his law school administrative career, first as the faculty director of the SJD (Doctor of Juridical Science) degree program, followed by appointments as associate dean for faculty and academic affairs and then as vice dean. After 14 years at American, he was enthusiastically recruited to become dean of the University of Miami School of Law.
"There is so much I love about deaning, including the joy of showcasing and celebrating the achievements of our faculty, students, alumni, and staff. It is a great privilege to consult with the community, articulate bold goals, and work together to achieve them," he said. "Deaning is a lay ministry for me. It is a privilege to be a servant leader; to help our community thrive, and to be present and a source of comfort and strength for community members at difficult moments."
It didn't take long for Varona to earn the respect and appreciation of the Miami Law community. He achieved remarkable success during his brief tenure as dean, much of it taking place remotely during the pandemic. In addition to recruiting the two strongest classes in the school's history, the school experienced an increase in numerous national reputational rankings and a 10 percent rise in bar passage rate under his guidance. However, his inclusive and accessible leadership style, together with his penchant for bringing people together to accomplish shared goals, made the greatest impression.
"I have worked with some good deans since I arrived at Miami in 1990. In every respect, Dean Varona was by far the best. His achievements in less than two years were extraordinary," said Martha R. Mahoney, professor of law at Miami Law. "He brought intelligence and warmth together with tireless dedication to the well-being of all the aspects and constituencies of the institution."

Another Miami Law professor, Scott E. Sundby, said "Dean Varona is the complete package of personality, energy, and vision – a superb dean. He navigated the pandemic's unprecedented challenges as well as any law school dean in the country, with his development team brought in over $8 million in less than two years despite the pandemic, and the students loved and respected him."
One of Varona's Miami Law students, a member of the Class of 2022, said, "Dean Varona's leadership style is one that centers the voices of others. He is a dynamic, courageous, and principled leader, who listens to understand, isn't afraid to confront challenges and make tough decisions, possesses the ability to inspire a community to act, and is grace under fire."
Despite the strong support from faculty, staff, students, and alumni, and a positive performance review, the university's president ended Varona's deanship after 23 months, and later named him Dean Emeritus. "I was told that University leadership wanted someone with a different vision for the deanship. It was heartbreaking, but I look back on my time at Miami Law with tremendous appreciation, affection, and admiration to that extraordinary community of scholars and students."
Arriving in Seattle
Sooner than he anticipated, Varona found himself receiving nominations to deanships across the nation. This led him to apply to Seattle U Law's deanship, which became available when Annette E. Clark '89 announced she would step down after a nine-year tenure. During the interview process, he made a convincing case for why he was the best candidate.
"In our outreach to our community, the search committee consistently heard that our school was ready for a leader with the vision, energy, and ambition to take us to the next level," said Professor Brooke Coleman, who co-chaired the search committee. "We found all of that and more in Dean Tony Varona. His enthusiasm around being our best selves — as individuals and as an institution — is contagious."
Varona weighed several decanal offers from other nationally prominent law schools, but he specifically chose Seattle U Law due to the institution's inherent strengths and opportunities, which convinced him this was the right move.
"Seattle is the international city of big and bold ideas, the city of the future, and we are Seattle's law school," he said. "This law school is an ideal place to study, teach, write about, and change the law for the better. We are a progressive Jesuit Catholic law school with a longstanding commitment to social justice and making the world better, fairer, and more equitable. Our faculty include some of the most prominent and influential legal scholars in the world, some of whom have helped to found entire scholarly movements. Our alumni are leaders of the legal profession, pioneers in business, and distinguished jurists. The Seattle U Law offer was irresistible to me. This was the most attractive open deanship in the nation."
Varona believes that thoughtful strategy, hard work, and a collaborative approach will propel Seattle U Law into "new heights of achievement and prominence" as it embarks on its second half-century in existence.
Embodying diversity
As a law student whose ethnicity, sexuality, socioeconomic background, and upbringing differed markedly from many of his classmates, Varona found law school initially to be less than welcoming. "Diversity then, even at the most inclusive law schools, wasn't valued the way it is now. It was not easy to be so different," he said.
It's that type of lived experience which has instilled within Varona the extraordinary ability to empathize with and be sensitive to the needs of law students. It also informs his overall approach to leading the law school.
"As a member of multiple non-dominant groups, Dean Varona possesses first-hand understanding and the tremendous individual grit required to overcome a variety of obstacles," said Margaret Chon, Donald and Lynda Horowitz Professor for the Pursuit of Justice. "Removing them for others requires leadership that is collaborative, intentional, persistent, and visionary, all abundant qualities of Dean Varona's leadership approach."
Elizabeth Schwartz, a Miami Law alumna and prominent family law attorney based in Miami, echoed this sentiment when recalling his tenure leading that law school. "Not only are his academic and leadership skills top notch, but so many of us from the LGBTQ+, immigrant, progressive and first-generation communities saw ourselves reflected, and fully supported, by our law school's dean for the first time," she said.
A future vision
Since accepting the deanship, Varona has embarked on an extensive listening and learning tour to better understand the law school and its community, as well as strengths to build upon and areas that need attention.
Although his vision for Seattle U Law is still coalescing, he has shared several elements. A top priority is to elevate the law school's national stature. "Seattle U Law is so much better in so many ways than our ranking and other external indicia suggest," Varona said. "We deserve to be regarded among the top law schools in the country, because we already are a top law school. Getting our external metrics to match the reality of the extraordinary strengths of our community will help us in all areas, from prospective student outreach to new curricular programs to faculty recruitment to fundraising."
To that end, he is working to cultivate a more positive external reputation. That's where his active social media presence has a clear strategic purpose – promoting the great work of the law school's constituent community in ways that will pay dividends in the near future.
One of his first acts was to lure Richard Delgado and Jean Stefancic – the husband-wife team who are renowned legal scholars and professors – back to the law school, which was their previous academic home from 2008 to 2013. Delgado was recently credited with being among the top 10 most cited scholars in law, bringing the law school into the reputational company of Harvard, Yale, Georgetown, Stanford, and other prestigious schools.
Another priority is to cultivate a global reach. To accomplish this, he tapped Associate Professor Sital Kalantry to fill a newly created position, associate dean of graduate law and international programs. She will oversee building partnerships with foreign law schools, including in countries such as India, to drive enrollment in the school's LLM programs.
To expand and elevate the thought leadership and scholarship of the law school, he created a new role of vice dean for intellectual life, which will be filled by Professor Deborah Ahrens.
Many more ideas are in the pipeline, making Varona bullish on the future of the school and its students. "There has rarely been a better time to be a lawyer, and the nation has never been in greater need of Seattle U Law-educated lawyers," he said.
Always cognizant of his roots, Varona understands and appreciates the path he has traveled and the incredible opportunity in front of him.
"Teaching law is the best job in the world, especially at a law school like ours. We have the privilege of preparing bright future lawyers interested in improving the world. My ability to engage in this work as an immigrant, whose family came to the United States in search of freedom and a better life, is the culmination of my family's American Dream story," he said. "Being Seattle U Law's dean is my dream job, and the biggest honor of my life."
Anthony E. Varona, JD, LLM
Nickname – Tony
Birthplace – Born in Camaguey, Cuba, and raised in Newark, New Jersey
Age – 55
Family – Husband, John Gill, plus two cats and two dogs
Previous positions/appointments
Dean and M. Minette Massey Professor of Law, University of Miami School of Law
Vice Dean, Associate Dean for Faculty and Academic Affairs, and Professor of Law, American University Washington College of Law
Associate Professor of Law, Pace University School of Law
Wasserstein Public Interest Fellow, Harvard Law School
Adjunct Professor of Law, Georgetown University Law Center
General Counsel and Legal Director, Human Rights Campaign and HRC Foundation
Associate, Skadden, Arps, Slate, Meagher & Flom LLP
Associate, Mintz, Levin, Cohn, Ferris, Glovsky and Popeo PC
Honors Program Attorney, Federal Communications Commission
Education
LLM, Georgetown University Law Center
JD, Boston College Law School
AB, Boston College
Areas of Expertise
Administrative Law
Media and Communications Law
Sexuality, Gender and the Law
Diversity, Equity, and Inclusion in the legal academy and profession
Recent honors
Named to Lawyers of Color 2020 Power List, which recognizes the most influential minority attorneys in the nation
Certificate of Special Congressional Recognition by Congressmember Jamie Raskin (D-MD) "in recognition of . . . exemplary and passionate service to the students, faculty, and staff of American University's Washington College of Law…"
Nixon Peabody SPARK Award, "in recognition of…contributions to the advancement of LGBTQ rights since the 1993 March on Washington."
American University Faculty Award for Outstanding Teaching in a Full-Time Appointment
2018 Egon Guttman Casebook Award, American University Washington College of Law
Professional service
Co-chair, Washington State Bar Licensure Task Force
Member, AALS Membership Review Committee
ABA/AALS Reaccreditation Site Inspector and Reporter
Member, ABA Legal Education Consortium on Police Practices Deans' Advisory Committee
Past national board service: Human Rights Campaign, GLAAD, Stonewall National Museum & Archives, Alliance for Justice