When the country's most severe outbreak of COVID-19 at the time struck New York City in late March, part-time Seattle University School of Law student Jeremy Conklin knew what he had to do. As a critical care physician and trauma surgeon, he and many other medical professionals from around the country were called upon to help treat the growing number of patients flooding the city's hospitals.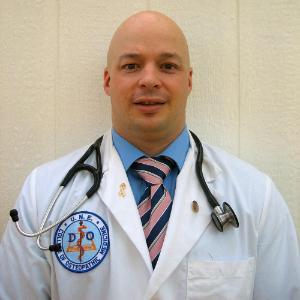 Knowing he could finish out the remainder of his law classes online, Conklin boarded a plane and headed to Maimonides Medical Center in Brooklyn. What he saw in those first few days and weeks was unlike anything he had ever been through in his medical career, which includes time spent as a U.S. Army medic during a deployment in the 1990s to the conflict zone of Bosnia. The experience also sharpened his focus for plans after law school.
After he graduates next year, Conklin's goal is to use his law degree to launch a health law practice. This would involve representing patients in lawsuits but also advocating for more substantial changes in the U.S. health care system.
He points to an absurdity that the pandemic revealed about the health care business model. "Hospitals have been operating at 200 percent capacity, where they have greatly expanded the number of beds, yet they are losing money, with some even going broke," Conklin said. "Prior to the pandemic, hospitals often did not fill all their beds but earned more on elective procedures. So they served fewer patients, who were less sick, yet made more money.
"We need to change the way health care is delivered in the U.S. People who don't have access to health care are the ones who are using the most resources and are having the worst outcomes due to COVID-19. I want to use my law degree to work to ensure health care is a basic human right."
The primary challenge Conklin and his fellow doctors faced in New York was a lack of effective treatments for patients with COVID-19. "Most medicine is evidence-based, where research and studies are performed. With COVID-19, there was nothing. As a physician, we try to make people better. It's frustrating to not know how to treat patients. We were trying everything under the sun to help our patients," he said.
Another challenge was the extraordinary protocols that the hospital was forced to implement to safely manage the huge influx of highly contagious patients. "We had to limit the amount of times that nurses and physicians could go into patients' rooms," Conklin said. "That meant moving all the equipment outside of the room into the hallways. We were figuring a lot of this out on the fly, so it took a lot of ingenuity to come up with solutions."
At one point, nearly 300 patients in his hospital needed ICU beds, an extraordinarily high number. "Most hospitals only have one or two negative pressure beds for patients with contagious conditions. The Army Corps of Engineers had to make an entire floor of the hospital into a negative pressure area. They also had to convert areas of the hospital into an ICU to add much more capacity."
Conklin often thought about the risks involved. His hospital, like many others, experienced a shortage of personal protective equipment, which increased the danger of contracting the virus. "You have to make sure you are taking appropriate precautions, because if you get sick, you can't take care of patients. But most healthcare providers know there are a lot of diseases out there that we can contract due to where we work," he said.
Conklin is still treating COVID patients – not in New York, where the outbreak has slowed, but at a hospital in the Dallas area, because infections in the state of Texas are surging. A typical workday for Conklin is a 12-hour shift that begins at 7 a.m. He will meet with the team that worked the previous night, then go on rounds to check on his patients and develop or refine treatment plans.
As a physician who often treats the sickest patients with the highest mortality rates, Conklin has witnessed heartbreaking scenes. "The policy is that we don't allow visitors so they won't unknowingly bring in or contract the virus," he said. "So I've seen patients who die without family or friends. Sometimes nurses are able to hold up an iPad and connect patients with their loved ones via FaceTime." A makeshift morgue in the Brooklyn hospital's parking lot served as a grim daily reminder of the virus's toll.
In Dallas, Conklin already sees a dramatic difference in how patients are treated. "We now have more data about what treatments work and what treatments do not," he said. "We were flying blind during the earlier outbreak in New York. The amount of information we have gained in just a few months is amazing, which we are putting to good use."